Virtual Seminar Addresses Issues of Plastic Waste in the Environment
Virtual Seminar Addresses Issues of Plastic Waste in the Environment
Five experts shared insights with 120 scientists and industry representatives
Xinyi Zhang | August 7, 2020
The infiltration of plastic waste into the environment constitutes a growing challenge for people and ecosystems across the globe, according to experts at a July virtual seminar hosted by the Institute for Sustainability and Energy at Northwestern (ISEN). Panelists with expertise in biology, ecology, engineering, and Earth and environmental sciences discussed their research and opportunities with more than 120 scientists and industry experts during the webinar: "How to Track, Measure, and Communicate the Flow of Plastic Waste in the Environment." The online event was part of a speaker series by the Program on Plastics, Ecosystems, and Public Health (PEPH) at ISEN.
Panelists included Taylor Maddalene, director of the Sea to Source: Plastic initiative at the National Geographic Society (NGS); Tim Hoellein, associate professor of biology at Loyola University Chicago; Chelsea Rochman, assistant professor of ecology and evolutionary biology at the University of Toronto; Stefan Krause, professor of ecohydrology and biogeochemistry at the University of Birmingham (UK), and Jennifer Mathis with the Jenna Jambeck research group at the University of Georgia.
"Plastic waste has only been an issue for the last several decades. And we are still in the fairly early and really exciting stages of developing tools and methods to set baselines and answer key scientific questions that will inform solutions going forward," said panelist moderator Maddalene. "It's critical, now more than ever to both develop and share those methods and that knowledge."
She noted that more than 8 billion metric tons of plastic waste has been produced since the 1950s while 8 million metric tons enter the oceans every year. She explained that NGS is tackling this issue through its Sea to Source: Plastic program, which supports field research around the world to better understand the pathways of plastic in large river systems and to identify the hot spots where immediate intervention could have the most significant impact.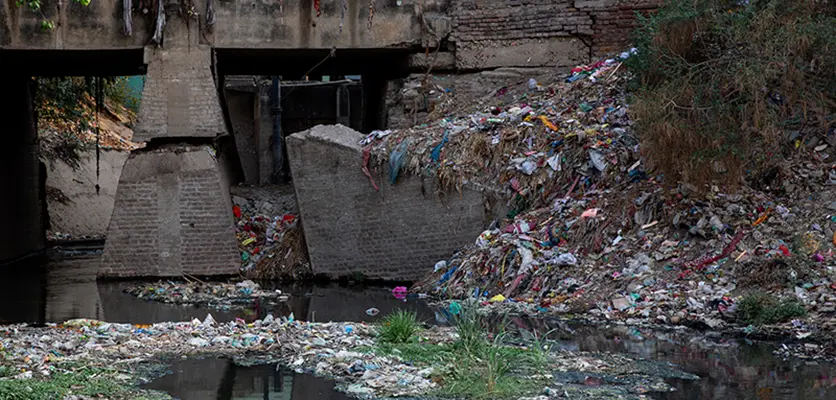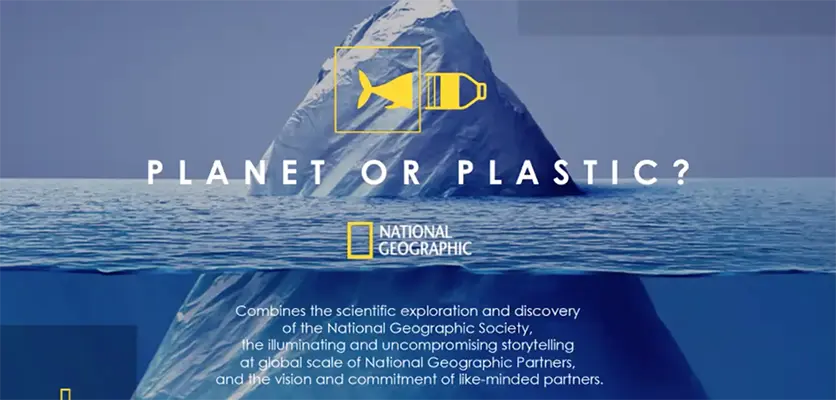 Last year, National Geographic conducted its first Sea to Source expedition along the Ganges with the goals of setting a baseline on the amount of plastic waste in the environment, supporting the development of intervention action plans, creating a replicable methodology, and scaling local capacity for increased impact.

Associate Professor Hoellein shared his research on how plastic and microplastic trash interacts with virtually every other ecosystem, impacting water resources all over the world. He talked about efforts to enlist citizen scientists to measure plastic waste and rank river systems based on the amount of waste they contain, taking into account that visual tracking often underestimates waste, while the manual collection of waste offers more detail. With corporations taking increasing responsibility for waste and more continuous research in the field, he said the situation provides opportunities for future progress.

"It's a win-win-win situation in that volunteers are participating in research, non-profit groups are engaging with public in a new way, and the environment is cleaner," Hoellein said.

Assistant Professor Rochman studies the ways microplastics integrate into all parts of the ecosystem and regularly provides advice to policy makers and managers in Canada, the United States, and the European Union. She is encouraged by simple, localized solutions such as rain gardens that have been shown to collect up to 90% of the microplastic particles in stormwater runoff, or consumer solutions such as lint filters in washing machines that can divert up to 89% of microfibers from washing machine effluent. "When we talk about plastic as a whole, we need a combination of solutions. They need to include plastic waste reduction, waste management, and cleanup in order to truly mitigate this problem," said Rochman, who pointed out that data suggest that different communities have unique plastic pollution challenges due to the characteristics of the communities, and that solutions should be tailored accordingly. "There's no one size fits all solution, and every country needs to act in a way that makes sense for their culture and their issues," she said. According to Rochman, manufacturers and companies can push the boundaries of existing operations and products to improve recycling and reuse and otherwise protect the environment.

Professor Krause develops models and global monitoring campaigns such as the 100Plastic Rivers program that investigate the environmental fate and transport of plastic in river networks and identifies hot spots and hot moments of plastic pollution in freshwater ecosystems. "We know that more than 100 million metric tons of mismanaged plastic waste were produced in the year 2010," Krause said. According to Krause, only a minority of the mismanaged plastic waste that has been produced globally so far has ended up in the oceans, with the majority of plastic waste being stored for long durations ranging from decades to centuries in the sediments of river corridors. This highlights the important of analyzing the impacts of plastic waste that resides in river networks for a long time, creating a pollution legacy for generations to come, even if we would be able to magically stop all plastic leakage into the environment. The interconnectedness of plastic pollution across the boundaries of different cultures, social and political systems also highlights the complexity of the challenge for finding solutions to mitigate the plastic pollution problem across the globe, he said.

Jennifer Mathis is an environmental engineer and PhD student working with Jenna Jambeck research group at the University of Georgia, shared details on a "green engineering" project she led with Vietnamese colleagues. Following fieldwork in 2018 and 2019, Mathis' team is focusing on utilizing a circular economy and a circularity assessment protocol (CAP). The CAP was designed by Dr. Jambeck, who is a fellow with the National Geographic Society and an expedition co-lead for its Sea to Source initiative, as well as one of the world's leading experts on issues of global plastic contamination and waste management. The CAP strives to help foster a more efficient cycle of waste management and reuse, rather than the common "take-make-dispose" models of linear economies. Mathis illustrated the attitude of people towards plastic pollution in Asia and how to use the CAP framework to reduce pollution.

"The CAP can help to inform communities by giving them a baseline assessment to work from and direct potential actions," Mathis said. "The CAP can inform and support governments in defining polices and good practice... It can also help provide an understanding of people's actions and behaviors and inform policy change." Her scientific collaboration provided a sneak peek at insufficient waste management solutions that require more decisive international transformations in the future.

During the question and answer portion of the event, panelists addressed some of the remaining unsolved problems in plastic waste including the lack of a uniform measuring system. "Plastic pollution is a complicated suite of products and solutions... tailor your solutions to a specific product because that's what it will take along with materials innovation and recycling," Hoellein said.

The panelists suggested that there are still gaps in the data that need to be filled with future research. More important still is the development of measures needed to determine how plastic in the air and in drinking water affects public health. "I hope we do it right and that we all come together around … harmonizing strategies that truly create a sustainable culture, reduce our waste, and clean up our environment," concluded Rochman.