Insights from the 2022 ISEN Annual Symposium
A gathering of faculty members, industry professionals and leaders, students, and community members, the ISEN Annual Symposium convened on December 1 and 2, 2022 on Northwestern University's Evanston campus. The Symposium created a space to explore the interdisciplinarity of current issues related to Climate and Energy Transition and Resilient Communities. Over sixty panelists represented more than twenty disciplines across Northwestern and beyond.
From the clean energy economy to intersectional issues like environmental justice, sustainable investing, climate policy, and science communication, panelists and plenary presenters lent expertise to guide the way forward.
Day 1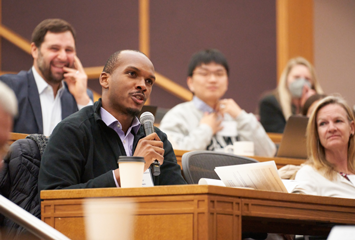 Each day began with a Dean's Plenary. Julio Ottino, Dean of the Robert R. McCormick School of Engineering and Applied Science and Distinguished Robert R. McCormick Institute Professor and Walter P. Murphy Professor of Chemical and Biological Engineering, and Tim Stojka (McC '89), Founder of Agentis, opened the first day with an examination of technology and software that facilitates energy efficiency and consumer education. Referencing Stojka's engagement with students as NUvention Energy Advisory Board Chair, Dean Ottino noted the importance of diverse thinking, perspectives, and experiences. "In order to come up with innovative ideas, there must be the duality of analytical thinking and also a proclivity for more of the creative side of things," remarked Ottino. As utilities increasingly need to innovate to move forward with decarbonization of electrical energy, Stojka shared ideas about ways to expand the scope of the grid while integrating renewable energy sources.
After attending morning and afternoon panel sessions on autonomous mobility, regenerative agriculture, international climate negotiations, synthetic biology, and more, participants gathered for a second Dean's Plenary with Adrian Randolph, Dean of the Judd A. and Marjorie Weinberg College of Arts and Sciences and Professor of Art History. Randolph spoke with Brad Sageman, ISEN Co-Director and Professor in the Dept. of Earth and Planetary Sciences. The plenary resituated the day's topics within a geological timescale, exploring the history of Earth's carbon cycle as it relates to global climate change.
Thinking about the human-nature relationship, Dean Randolph asked how 40 years of recommendations from the IPCC have changed the climate movement. "We are in the middle of a revolution right now," replied Sageman who has witnessed his graduate students shift from seeking careers in the oil and gas industry to working for companies pursuing carbon sequestration. "They want to be part of the solution," he said. The two wrapped up the first day with an exploration of the role of educational institutions in promoting climate literacy amongst the general public and the next generation of learners.
DAY 2
Leading the second day, Hari M. Osofsky, Dean of Pritzker School of Law and Myra and James Bradwell Professor of Law, spoke with Paul Marushka, Founding CEO and President of Sphera. Dean Osofsky's work focuses on improving governance and addressing justice and energy in climate change regulation and litigation. Marushka discussed the complexities of operating Sphera, a company that provides software to monitor and report on ESG capabilities for corporations around the world.
Marushka explained the opportunities for partnership between academic institutions and corporations to expand ESG data accessibility and to train students to use data to avoid greenwashing and promote corporate accountability. With this framing, the second day's sessions examined climate migration, U.S. climate policy and regulation, emerging contaminants remediation, the hydrogen economy, and critical minerals for clean energy.
The fourth and final Dean's Plenary featured Charles Whitaker, Dean and Professor at the Medill School of Journalism, Media, Integrated Communications and Gabrielle Levy (Medill '11) of Climate Nexus, an organization who elevates the communications work of frontline organizations and small advocacy groups around the world. The two tied together the importance of climate communication in an environment where misinformation runs rampant. Levy and Whitaker tackled the complexities of how to move forward with climate mitigation and the transition to green energy sources at a time of heightened political polarization and deep entrenchment.
Opportunities to address the pressing global impacts of climate change have never been more critical, particularly in this consequential climate decade. Every opportunity to share leading research, niche insights, and diverging perspectives plays a role in garnering the collective effort necessary to address the climate crisis. The 2022 ISEN Annual Symposium is a meeting point for faculty, partner organizations, and students that will hopefully lead to continued collaboration. Thanks to all who contributed to the dynamic conversations throughout the Symposium.