New Foam-to-Foam Recycling Process Opens Doors to a Circular Economy for Key Plastics
New Foam-to-Foam Recycling Process Opens Doors to a Circular Economy for Key Plastics
Researchers discover how to dismantle and rebuild a common form of polyurethane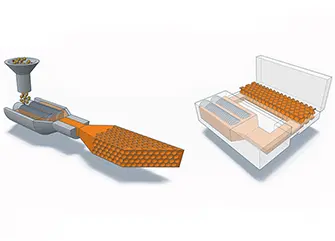 Researchers from Northwestern University and BASF are collaborating to rewrite the story of one of the world's most common forms of plastic—polyurethane foam. 
The durable material, found in everyday products from mattresses to shoes, has often been sent to landfills after use for lack of a better option. Now, with the discovery of a breakthrough, foam-to-foam recycling process that uses greener catalysts, polyurethane foam can continuously be repurposed into the future. 
Plastic materials can be a part of a sustainable future when they are produced within a circular economy, according to William Dichtel, the Robert L. Letsinger Professor of Chemistry at Northwestern's Judd A. and Marjorie Weinberg College of Arts and Sciences. "This discovery is a major step forward in terms of the circularity of polyurethane, which is a big part of all of our lives," said Dichtel.
In a circular economy, the lifecycle of a product is never ending. After its initial production and service, the material is repurposed continuously through recycling or another method for use as a new product. For traditional polymer plastic recycling, the process involves melting the plastic and then casting it for a new use. However, that process cannot be applied to the more complex and durable crosslinked polymers that comprise polyurethane foam, which is also found in spray foam insulation, car interiors, and many types of apparel.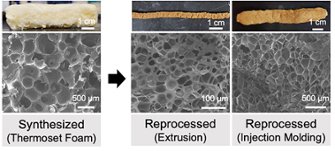 Rather, Dichtel and his team developed a method to recycle and reshape existing polyurethane foam products by embedding a new nontoxic zirconium-based catalyst into the material to reshape it at high temperature, ultimately allowing it to be made into a new plastic. The researchers also added a substance called a foaming agent that generates new gas bubbles that are encapsulated within the plastic as it changes shape. The process results in an old polyurethane foam, which would typically be used only once, to be recycled and transformed into a new foam part.
The implications of the discovery are global at scale. The technique might be applied to post-consumer polyurethane foam products or unused industrial scrap plastics. 
"The types of polymers that require this catalyst approach are called thermosets, or crosslinked polymers," said Dichtel, who is a faculty affiliate at the Paula M. Trienens Institute for Sustainability and Energy. "Thermosets are important because of their superior durability and stability, but these properties come at the expense of recyclability. New methods to recycle thermosets will reduce greenhouse emissions, save energy and decrease landfill use."
Polyurethane foam is one of the most extensively used plastics of this type. "A lot of them have the ability to hold on to gas bubbles for long periods of time. That's what makes them so great as insulating materials," he said. 
The study, "Circular Reprocessing of Thermoset Polyurethane Foams," was published online this week in Advanced Materials. Subeen Kim, a doctoral student in Dichtel's laboratory and a summer research intern at BASF, is the paper's first author. 
The research was supported by the REMADE Institute, the National Science Foundation through the Center for Sustainable Polymers, and the NSF Graduate Research Fellowship Program. Funding from the REMADE Institute, a public-private partnership created by the U.S. Department of Energy, helped to launch the research collaboration between Northwestern and BASF in 2021. 
The discovery builds on prior research by the team that outlined a way to essentially melt polyurethane foam into a solid plastic product. Although it was an important discovery, the result thus far has limited application and led to the question answered in this new study. Northwestern and BASF each bring a unique perspective to the research initiative, from laboratory insights to the potential application of the work by industry. 
"The day-to-day research takes grit and tenacity, because you very rarely can follow a linear path to where you want to go," said Dichtel. However, he notes that the work is "very fulfilling, and one of the best parts of my job is to do that and work with such talented students and collaborators." 
As a next step, the Northwestern team will partner with BASF to optimize and scale up the polyurethane foam recycling process for broad application.