Innovating for Social Impact
Innovating for Social Impact
2019 Resnick Family Social Impact Fund Recipients Announced
Prototypes. International partnerships. Collaboration across disciplines. These are some of the factors that came together for academic teams that earned funding from the Resnick Family Social Impact Program. Administered by the Paulra M. Trienens Institute for Sustainability and Energy at Northwestern, the Resnick Program supports projects that address significant local and global challenges in sustainability and energy. Generous funding from Paula Stamler Resnick (WCAS '86) and Ira Resnick makes the program possible.
Meet this year's recipients and read about their inspiring work.
Scoots Plant Based Footwear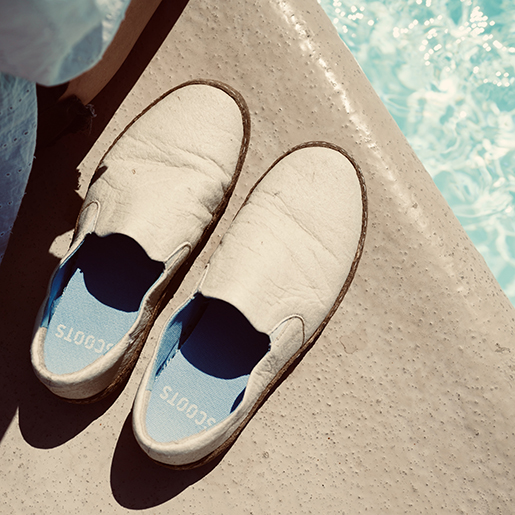 David Costello (KSM '19) could taste success from the moment he decided to develop a line of sustainable footwear. On the first day of New Venture Discovery class in the Spring of 2018, he successfully pitched his idea to his classmates, earning a team of four collaborators who came together to help make his dream a reality.
"The particular problem we are solving for is waste in the footwear industry," he explains. Adding that the average shoe takes from 35 to 40 years to break down in a landfill, according to the US Department of the Interior. "This was the problem I specifically wanted to go after," says Costello, who is motivated by the environmental aspect of his work. The team began "looking to innovate on the materials side of things and bring together a combinations of materials that wear out slow but break down fast."
Work continued after the quarter ended. In addition to expanding his team, Costello found support through a range of courses and programs at Northwestern, including the Zell Fellowship program at the Kellogg School. Costello spent time with designers and factories from Chicago's School of Shoemaking to a cork producer in Portugal. The result? A shoe that is 95% plant based. Scoots' product development work and part of its promotional work was funded by the Resnick program.
The first round of shoes became available via a Kickstarter campaign in June, and remained available into early July. The upper is made largely of pineapple fibers, and the bottom mainly of cork. After graduation, Costello plans to continue to refine the product and materials until it is 100% compostable. Scoots is now seven employees strong including Kellogg School graduates of the Class of 2019: Peps Bengzon, Laurel Chamberlin, Jess Hsueh, and Thomas Schanzer. Additional teammates include Wendy Kadon, Kellogg Class of 2020; and Sarah Han, an undergraduate student with Medill. "The progress that we've made in a short amount of time wouldn't have been possible with the great people working with me," says Costello, who anticipates a full scale launch in the fourth quarter of 2019.
Bio-Acoustic Monitoring Technology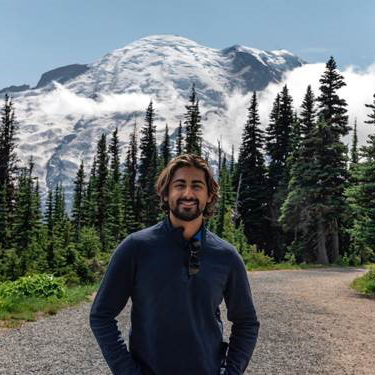 Industrial engineering major Saif Bhatti earned funding from the Resnick program to support his travel to South Africa this summer, where he will test technology he developed to alert park rangers of wildlife poaching activities in large natural areas. A rising senior, Bhatti is taking previous advancements in the field to a new level by working with microprocessors rather than cell phones to relay information across a wider geographic range than was previously possible. Working with a linear programming language he learned in his engineering courses, Bhatti developed a model to guide the placement of sound-monitoring technology across an area such as a national park. He also designed audio-processing scripts to distinguish between the types of audio signals that may exist in such a location in order to improve the accuracy of the system.

"This is pretty close to my heart because of how big of an issue it is," says Bhatti. "I think it is critical to maintain any fauna we have." Bhatti is taking care to develop his system in a way that can be replicated in any natural setting.

Early this summer, he is testing his system on land operated by the National Park Service and The Nature Conservancy in California. He then travels to Kruger National Park in South Africa, where he will work with local teams to test his technology across the park, which is the size of Holland. He hopes to integrate his system with existing local rhinoceros monitoring technologies. His connection to the park was made possible by Northwestern University's Global Learning Office.

Bhatti's work is open source. "What I want to make one of my mainstays is to make sure this project can be replicated in areas where it needs it and bring aid to researchers who are working on this problem," he says.
CattleTECH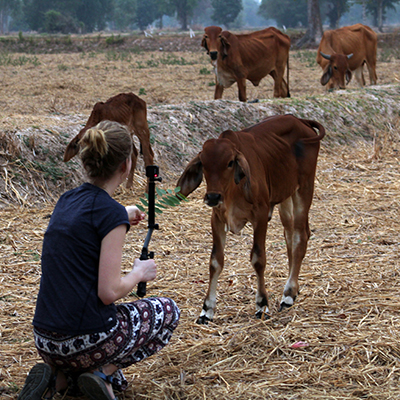 A team of undergraduate students enrolled in the winter/spring 2019 Segal Design Institute's Interdisciplinary Design Projects I course were supported by the Resnick program for their fieldwork in Sisaket, Thailand to test sustainable alternative cattle herding practices. Early in the quarter, the team set out to design a high-visibility product to prevent cattle related accidents on roads and other locations, and to produce a virtual fencing system to increase control and monitoring of cattle movement. The product also had to work within the environmental, cultural, and geographic specifications of the location.

During spring break in March, the team of five students travelled to meet with their client at Raitong Organics Farm, where they toured the area, conducted interviews, and tested their prototype.

"Spending time on the land and interviewing with a variety of farmers introduced key insights into our project problem and that we would have otherwise not been able to discover with our resources at home," says Maddie Hong, a rising senior, radio/TV/film major, and Segal Design Certificate student. "The CattleTECH team and I are immensely grateful for the opportunities provided by the Resnick Family Fund."

The field testing provided critical design and construction insights that the team evaluated after returning to Northwestern where they refined their solution. "This solution not only addresses the problem of cattle safety and management in the area, but will also be a strong step forward towards more sustainable farming practices in Thailand," says Hong.

In addition to Hong, the team members include rising seniors Natalie Hanson, manufacturing and design engineering (MaDE) major; Henry Moskal, communication studies major; and Ieva Stakvileviciute, a MaDE major; in addition to Freesoul El Shabazz-Thompson (MaDE '19).
Campus Bikeshare, eo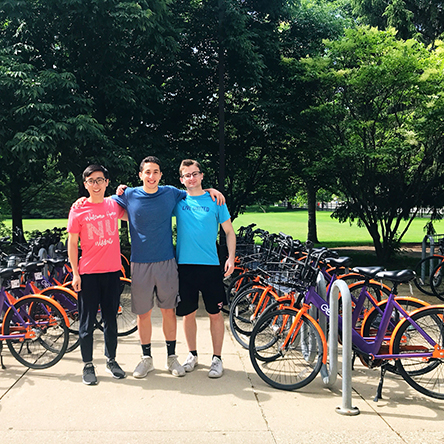 Jacob Gutstein, Drake Weisman, and Dan Weiss have been on a roll since they co-founded eo, a campus bikeshare program, last March in their NUvention: Innovate for Impact course with the Farley Center. Rising seniors Gutstein, an engineering major; Weisman, an economics major; and Weiss, an applied math and economics double major, have been hard at work ever since. They work closely with team members Grace Jaeger, a rising junior and journalism major; and James Jia, a rising sophomore and industrial engineering and management sciences major.

Their student-centered, dockless bikeshare system aims to increase bike ridership while helping students create lifelong, sustainable commuting habits. They started the program after noticing how many students found it difficult to maintain their bikes and to find places to lock them or store them around campus. After a successful pilot program last summer, eo expanded to offering 40 bikes this past spring and have found support from The Garage. Now, with funding from the Resnick program, they are preparing to expand further.

"The Resnick fund gives us the ability to continue the program and to bring it to scale," says Gutstein, who said the team has seen a quick adoption by students thus far. "We need the ability to expand and Resnick gives us the ability to increase our presence on campus and integrate into campus culture," he adds.

The team is carefully tracking adoption in order to measure the behavior change among students in their future, and plans to complete a study at the end of Fall 2020.

Also in 2020, the team plans to bring their bikeshare program to one or more additional college campuses. After graduating, they plan to turn their company over to the management of current students who wish to gain business skills. "For me personally, I'm really thankful for the experience that I've had at Northwestern and the potential for me to give something back like a bikeshare system is really exciting," says Gutstein.