The Role of Emission Reduction in Climate Change
The Role of Emission Reduction in Climate Change
Symposium Panelists Talk Carbon Removal and Carbon Market Scalability
Leila Darwiche | April 3, 2023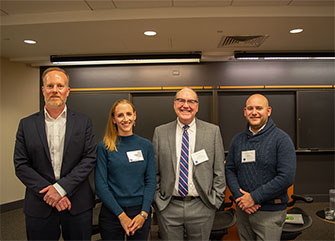 It can be argued that emission reduction and other preventative measures alone will not put a stop to rising global temperatures. One additional step governments and companies might take to meet the goals of the Paris Climate Agreement is to extract existing carbon dioxide from our atmosphere.
This removal is what panelists discussed during "Beyond Neutrality: Jumpstarting the Carbon Negative Economy," a session at the Institute for Sustainability and Energy at Northwestern (ISEN) Annual Symposium. The panel discussed the current state of carbon dioxide removal technologies and how they could be incorporated into larger climate change mitigation strategies.
"We now need really aggressive decarbonization, far more aggressive than we're doing," said moderator Wil Burns, a visiting professor of environmental policy and culture at Northwestern and adjunct professor of the MSES program. "We also need to pull huge amounts of carbon dioxide out of the air."
Carbon dioxide removal (CDR) technologies and practices attempt to remove carbon dioxide that has already been emitted into the atmosphere and stores it in a more stable form. The panelists focused on soil-sequestration, ocean-based CDR, and direct-air capture methods.
"I think the biggest challenge right now is the fact that we're still doing fundamental research," said Grace Andrews (WCAS '17), Vice President and Head of Science at Vesta PBC. "There is still, in my opinion, a multi-year timeline before we can have the kind of confidence that we need to inspire a carbon market the size of gigaton-scale carbon removal."
Andrews works on ocean-based CDR efforts. She emphasized that the field's nascency leaves a lot of questions on how the technology would operate on a larger scale, and what it would look like to measure the impact of these practices – in particular when it comes to building the carbon market. Without ways to accurately measure how much carbon is being removed, she noted that it is difficult to build trust in CDR and in a large-scale market that would incentivize the behaviors.
Ted Sargent, the Lynn Hopton Davis and Greg Davis Professor of Chemistry at Northwestern, noted that many of the scalability problems arise from challenges in sustainably scaling CDR rather than the CDR strategies themselves, since the process consumes significant energy. "To implement this at a large scale, we would need more green energy solutions to be online. CDR would also need to be the most energy efficient use of this limited resource," he said. "Once we get past those two, I feel okay about the scale."
Scaling the process isn't the only challenge of CDR. Sam Schiller (SESP '09, KSM '21), co-founder and CEO of Carbon Yield, mentioned that success relies on a long-term commitment to carbon sequestration, otherwise the carbon will be simply released back into the atmosphere. Additionally, it shouldn't be relied on in place of other methods of mitigating climate change, but done in addition to those solutions.
"If we are only focusing on carbon removal and not on decarbonization of the fundamental activities that drive emissions, that's a problem," said Schiller. "We don't want to reduce the intensity of our efforts to decarbonize the other fossil fuel economy resources."
The panelists all emphasized that there is room for growth in developing technologies and measurements for carbon dioxide removal and that the success of such strategies will rely on innovation, something universities like Northwestern will need to play a part in.
"I think the future of these technologies is going to be really dependent on getting funding into the university systems to really train this new generation of skill sets where traditionally there hasn't been a lot of demand," said Andrews.
The two pillars of the Institute's 2021-25 Strategic Plan are Climate and Energy Transition and Resilient Communities. They shaped the Symposium's two days of panel presentations that brought together industry professionals and leaders, students, community members, and faculty from across more than twenty disciplines. The "Climate Modeling and Public Health" panel was part of the Symposium's Resilient Communities Track.