Northwestern University Joins Global Infrastructure and Nature Coalition at World Conservation Congress
Northwestern University Joins Global Infrastructure and Nature Coalition at World Conservation Congress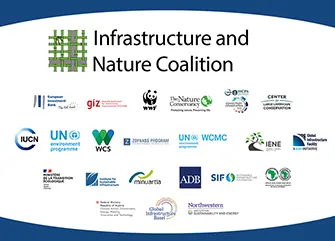 The Infrastructure and Nature Coalition, a group comprised of some of the world's most prominent public and private sector organizations working together to explore, develop, and promote nature-positive infrastructure solutions, is welcoming the Institute for Sustainability and Energy at Northwestern University (ISEN) as a member. Membership allows ISEN to deepen its longstanding partnerships with Coalition members—such as World Wildlife Fund (WWF) and The Nature Conservancy (TNC)—while also expanding avenues for collaborative research with new partners—such as the United Nations Environment Programme (UNEP), World Bank, and several national governments and development banks among others.
"Infrastructure expansion for energy-production, transportation, and the built environment can be the fulcrums for future biotic resilience and climate adaptation, but only if the value of ecosystem services is baked into global financial risk and investment practices," says Demetria Giannisis, ISEN senior managing director. "Northwestern scientists are currently working in close partnership with WWF, TNC, and industry leaders to contribute to systems level innovation in areas such as carbon mitigating materials and engineering methods for construction to advances in how to integrate emerging solutions in biodiversity conservation across global communities. We are honored to be invited to join the Infrastructure and Nature Coalition, which is a natural extension of this ongoing work."
"It is essential that Northwestern collaborate with highly regarded global partners like WWF, UNEP, and others on these issues," says Giuseppe Buscarnera, associate professor of civil and environmental engineering at Northwestern who recently partnered with WWF on a sustainable infrastructure project in Myanmar. "Such partnerships allow basic research and theory to be applied in the real world." 
This week in Marseille, France, ISEN is joining the Coalition at the IUCN World Conservation Congress, one of the most influential conservation gatherings in the world. During the weeklong conference, ISEN, along with Coalition partners WWF and UNEP, is co-hosting a technical session on sustainable sand extraction, concrete production, and infrastructure development.
Founded in 1948, the International Union for Conservation of Nature (IUCN) is a democratic Union whose membership is comprised of more than 1,400 governmental and non-governmental organizations from 170 countries. The IUCN World Conservation Congress is IUCN's highest decision-making body, and it convenes its members every four years to debate, vote on, and deploy a global conservation agenda.
In addition to the official congressional proceedings that take place with IUCN members, the conference brings together more than 10,000 of the top policymakers, researchers, and conservationists in the world at hundreds of technical sessions to inform the IUCN decision making process. Such sessions address the economic, social, scientific, and technical aspects of a wide range of conservation issues, ranging from wildlife to oceans, protected areas to sustainable business, and climate change to human rights. The IUCN World Conservation Congress has been credited with playing an instrumental role in helping to put the historic Paris Climate Agreement and United Nations Sustainable Development Goals into action.
A Focus on Sand and Infrastructure
UNEP, also a member of the Infrastructure and Nature Coalition, joins as a co-host for the IUCN technical session—entitled "Equity, Ecosystems and Scarcity: the Global Sand Crisis and Infrastructure"—which is part of an ongoing collaboration and follows a Global Sand Crisis Seminar Series initiated by ISEN and WWF earlier this year.
"Sand is the basic ingredient for our development, if our society is literally built on sand, it should be considered as a strategic material, and we ought to be much smarter on how we use it," says Pascal Peduzzi, director at UNEP/GRID-Geneva and professor at University of Geneva. "UNEP/GRID-Geneva is collaborating with many partners around the world, including WWF and Northwestern, to examine these challenges closely and work towards scalable solutions."
As the world's most consumed raw material after water, sand is an essential ingredient in the formation of roads, bridges, buildings, glass, and silicon computer chips. Yet the world is facing a growing sand shortage without readily available alternative materials. Construction booms have led to dramatic increases in demand for sand, leading to rising tensions in communities and degraded ecosystems, as presented in a 2019 report published by UNEP. Since then, UNEP/GRID-Geneva created the Global Sand Observatory Initiative, to monitor global sand activities, identify solutions for reducing consumption, find alternatives, and provide technical and policy guidance along the way.
The session "Equity, Ecosystems and Scarcity: the Global Sand Crisis and Infrastructure" will be hosted on September 8, 2021 at 1:00 – 2:30 pm EDT. Those interested in watching can view the free livestream of the event here. A recording will be shared once available.
**
Northwestern's participation at the IUCN World Conservation Congress is thanks in part to the generous support of the Office of the Vice President for International Relations.
As of the date of publication, members of the Infrastructure and Nature Coalition include: Austrian Ministry of Transport; French Ministry for the Ecological Transition; French Development Agency (AFD); German Corporation for International Cooperation (GIZ); African Development Bank; Asian Development Bank; European Investment Bank; Global Infrastructure Facility; IUCN; Minuartia; Harvard University Zofnass Program for Sustainable Infrastructure; Northwestern University Institute for Sustainability and Energy (ISEN); Center for Studies and Expertise on Risks, the Environment, Mobility and Planning (Cerama); French Foundation for Biodiversity Research; Center for Large Landscape Connectivity; Infrastructure Ecosystems Network Europe; Global Infrastructure Basel; Institute for Sustainable Infrastructure; Sustainable Infrastructure Foundation; The Nature Conservancy; Wildlife Conservation Society; World Wildlife Fund; UN Environment Programme; UNEP/World Conservation Monitoring Center; and UNEP/Secretariat of the Carpathian Convention.