New LED Testing Capabilities at GIANTFab Lab
New LED Testing Capabilities at GIANTFab Lab
Ginny Lee | March 10, 2021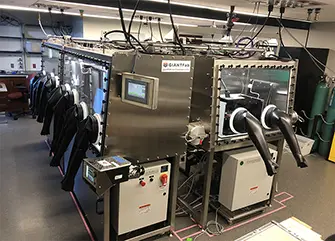 At the Institute for Sustainability and Energy at Northwestern (ISEN), researchers are innovating in the Glovebox Inert Atmosphere (N2) Thin-film Fabrication and Testing (GIANTFab) core facility, where new LED testing capabilities have opened the doors to a brighter future in solar energy science and similar fields. 
Northwestern graduate students Donghoon Shin, Department of Materials Science and Engineering; and Craig Laing, Department of Chemistry, are among the first to leverage the system to advance their separate work in photovoltaics and optoelectronic devices, respectively. 
GIANTFab opened in September 2019 under the leadership of Michael R. Wasielewski, Clare Hamilton Hall Professor of Chemistry, and executive director of ISEN. With resources from ISEN and startup support from Northwestern's Office of Core Facilities Administration (CFA), the GIANTFab core facility was launched to provide equipment for the manufacturing and testing of thin-film devices. 
Over the past year, Nathan La Porte, research assistant professor of chemistry and GIANTFab facility director, developed a software system for equipment operation that enables researchers in the facility to detect and analyze light emitted from LEDs. The equipment was received in December 2020 with aid from the Core Facilities Administration in Northwestern's Office for Research. Additional support came from the lab of Mercouri Kanatzidis, professor of chemistry and materials science and engineering at Northwestern, and the lab of Chad A. Mirkin, professor of chemistry and materials science and engineering, director of the International Institute for Nanotechnology, as well as from George B. Rathmann professor of chemistry. 
Laing, a member of the Kanatzidis research group, researches exploratory synthesis, which focuses on the discovery and development of new materials. He also studies the characterization of these materials. 
Shin, a member of the Mirkin research group, researches new structures of energy material and their application. He is especially interested in halide perovskite nanocrystal, which has gained tremendous interest in the recent material community due to their remarkable efficiency in energy conversion applications. 
By working in GIANTFab, the only lab on campus to have LED light testing capability, both are able to take their work to a new level.   
"LEDs are everywhere now. They're a great energy efficient form of lighting. However, the thing that you probably don't know is that the white LEDs that are commonly used now are not as good as they could be. There is still some energy loss that's going on that better developments could try to improve on," says La Porte regarding the need for innovations in LED technology. 
At its core, the unique GIANTFab lab allows researchers to avoid common laboratory challenges that arise when working with thin films, namely the degradation of surface coatings from exposure to atmospheric water and oxygen. Rather, researchers have access to enclosed glovebox compartments that enable seamless transitions in research testing and limit exposure. For example, substrates and devices can be transferred from spin coating and vacuum deposition equipment to a testing stand, all within the glovebox. This allows researchers to get the best possible performance out of their devices, and allows different materials to be tested under identical circumstances without compromising measurements via standardized device conditions. 
The lab's newest addition, an LED testing system, applies a specified voltage to an LED light and measures how much current is consumed. It can also detect the light bounced from an LED through a fiber optic cable connected to a spectrometer that separates and measures each wavelength of light that is emitted from the LED source. The curve created by the various wavelengths from the spectrometer allows researchers to determine when the LED operates most efficiently. This has opened doors to enabling new research projects that may not previously have had the adequate equipment to be launched. 
"In perovskite fields, most of the market is focusing on thin-film or randomly distributed nanocrystal based applications. If I can make the well-organized nanocrystal array form as the emitting materials, it will be useful for incorporating LED into various substrates, such as a soft material, to be extended in the commercial industry," says Shin. Scientists can work with perovskite crystals to create a variety of physical, optical, and electrical characteristics. As a result, it is a well-researched material in academia, and it is often found in optical applications. However, Shin's research focuses on creating a finely structured LED that is composed of nanocrystal arrays of perovskite incorporated into softer materials. He expects to see results in LED performance within the coming months. 
"I'm able to dissolve one of the materials I've found, which is also optically active, into a solution to make films that I can put into devices. This photoluminesces near infrared to red light. In GIANTFab, I've been able to put this into an LED as a new class of materials that have not been used in LEDs before," says Laing. At the GIANTFab lab, he has been working on using a rhenium cluster material with very strong light emissions in LEDs for optoelectronic devices, which has not been previously studied before. "GIANTFab let me do the last set of measurements to take my research project to the last step to really push it to the next level for a much more complete and impactful research project." 
The GIANTFab Mission 
Though a majority of GIANTFab users are often graduate and postdoctoral students, the lab welcomes projects and researchers from all across campus and even participants from outside of campus such as researchers from other academic institutions, nonprofit or national labs, and even commercial ventures. 
As a core facility, rather than focusing on a target research area, GIANTFab strives to be open to a wide variety of projects based on optically and electronically active materials. Research projects at Northwestern have ranged from chemistry to biomedical engineering fields. The accessibility of the equipment opens up many opportunities for potential researchers to pursue in a single space. 
"I get to see all these different projects that are happening on campus and think about how I can help all these different researchers," says La Porte. "The university has an incredibly robust and extraordinarily well supported portfolio of core facilities. And I think it's true for all of us in the core facility community that that's what we take real pride in—enabling the best quality research by having really high standards for ourselves, the training we provide, and the equipment that we make available."