MSES Student Profile: Christopher Chacko
Food for the Soul
Tierney Acott | November 22, 2021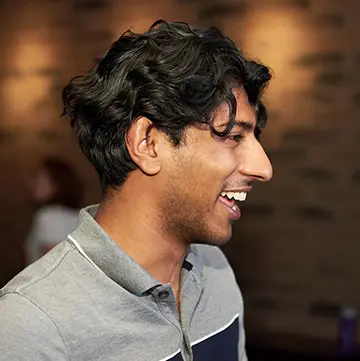 Christopher Chacko enrolled in the Master of Science in Energy and Sustainability (MSES) program to learn how to marry his interests in sustainability and food production and consumption, turning them into a meaningful career. "I think sustainability and food are going to be booming industries in the future. I think the agricultural industry has a technological revolution of its own that it needs to go through," says Chacko, who spent two years as a consultant at Accenture before deciding to matriculate to Northwestern.
When Chacko started the MSES program, he wanted to soak up as much as he could about sustainability, food technology, and agriculture. "I feel like in the regular consumer world, we don't get much education in terms of food or sustainability... But I really wanted to know more of the mechanics behind all the processes and a global perspective on the future of food and sustainability." Looking at the macro scope of food production pairs nicely with Chacko's BS in Supply Chain Management from Michigan State University.
At Northwestern, he's thriving on the interaction with speakers and industry professionals and the valuable nuance they bring to the program. The friendships and relationships with students in his cohort are also an impactful bonus, "especially seeing that a lot of these people will be leaders in the energy and sustainability industry of the future."
Chacko's specialization is undecided. He is considering both Sustainability and Energy and Sustainable Finance. Sustainability explores critical topics in addressing climate and a healthy planet, such as food and water, and Energy and Sustainable Finance examines the underlying economic and financial mechanisms for energy sustainability and growth. "My career aspirations change and diversify as I continue to learn. But I feel like after coming here, and definitely getting some good guidance, in terms of career perspective, I want to hone in more on food, which is my initial interest, my initial love, if you would, in sustainability." If the program finished today, he says he would work for a technology-focused company impacting food sustainability, helping them grow into something more common in the marketplace. Eventually, he'd like to migrate into either private equity or venture capital and be on the forefront of funding the future of food technology companies. "But, along the way, I hope to help out beyond technology and get very involved in the [food] industry itself. Hopefully I will be someone that people look at as a subject matter expert."
Ultimately, Chacko wants to help others. "We're all searching for purpose. We want to have some kind of greater impact." If he can nourish people with better food, and the planet with better food production, it's win-win.