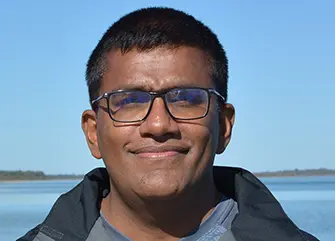 In a world where climate-related disasters are becoming increasingly frequent, World Wildlife Fund (WWF) emphasizes that every disaster is man-made. "What we say at WWF is there's no such thing as a 'natural disaster,'" says Dr. Missaka Hettiarachchi, a Senior Fellow in the Environmental Disaster Management Program (EDM) at WWF.
Although natural processes such as floods or cyclones can result in natural hazards, these hazards often become disasters due to human impacts on the environment which arise from environmental degradation and destruction or poor environmental management. Hettiarachchi's work in the EDM aims to reduce such disasters and rebuild after them and requires the understanding that disasters and the environment are intertwined.
In addition to his role at WWF, Hettiarachchi is a visiting scholar at the Institute for Sustainability at Northwestern University (ISEN). His appointment to this position was renewed in January 2021.
Hettiarachchi's work in disaster risk management includes considering pre-disaster aspects such as disaster risk reduction and preparedness as well as post-disaster reconstruction. With increasing climate change related disasters, the EDM works to develop and plan for disaster risk reduction and post-disaster recovery as well as creates guidelines to ensure environmental responsibility to prevent the negative consequences of poor environmental management.
Hettiarachchi became a visiting scholar through ISEN's partnership with WWF. Formalized in 2018, this collaboration seeks to combine Northwestern's expertise in the fields of science, engineering, and law with WWF's advocacy towards conservation, disaster relief, and public policy. As a visiting scholar, Hettiarachchi has access to research resources offered by the university such as Northwestern library texts, archives, and subscriptions to academic journals, which are otherwise costly or have limited accessibility to the public. By appointing visiting scholars, ISEN leverages partners in facilitating research endeavors and projects in sustainability related fields.  
Though Hettiarachchi's main field of work does not revolve strictly around research, WWF works in partnerships with several universities and organizations in different parts of the world that do involve significant research and research-oriented work. In the past, WWF has collaborated with Northwestern to conduct research on environmentally friendly building materials for use in post-disaster situations and continues to work closely with the school on such projects.
With a background as an environmental and civil engineer and experience as an adjunct professor, Hettiarachchi continues to hold a strong interest in academia. "I was always searching for an opportunity to have a research component in my WWF work as well. The collaborative project with [Northwestern] actually helped me to do that so now it has become a significant part of my work," says Hettiarachchi. With the resources offered as a visiting scholar, Hettiarachchi can apply this knowledge when he mentors and advises research students at WWF in addition to his work within the EDM program.
While much of his work focused on India, Australia, and Sri Lanka, his formal affiliation with Northwestern has also given Hettiarachchi the opportunity for exposure to the research and academic sector in the United States. "The academic sector is a very dynamic, fast-moving sector...so a lot of new concepts are coming in all the time that are discussed. You do trial-and-error kind of work with those new concepts which is not always a privilege that we have at WWF so that has also allowed me to expand my horizons and keep abreast of the newest, latest developments in the field," says Hettiarachchi regarding how his ISEN visiting scholar appointment has impacted his work.
Hettiarachchi's work exhibits a deep understanding of how human contribution to climate change has created a need for addressing disaster prevention and reconstruction.
"I think the work that we do right now is gathering momentum, although it's a very new area," says Hettiarachchi. Though work in disaster and environment is still relatively new, the progression of embracing such emerging areas and facing upcoming environmental challenges will remain significant well into the future. The renewal of Hettiarachchi's appointment as a visiting scholar with ISEN is sure to help continue this momentum.