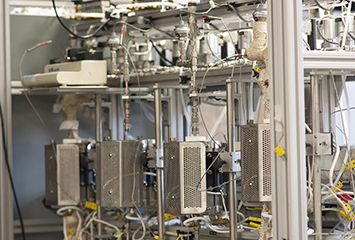 The Institute for Catalysis in Energy Processes (ICEP) at Northwestern received $4.5 million in renewed funding from the Department of Energy's (DOE) Office of Basic Science for a three-year term beginning this September. The funds allow the research center to tackle timely issues in energy production through three united research thrusts centered on selective oxidation catalysis, while offering faculty and students ongoing opportunities to adapt their investigations in response to future discoveries.
"The energy landscape is dramatically changing," said ICEP Principal Investigator, Justin Notestein, professor of chemical and biological engineering. "We're at a point as a society where we're starting to more consciously think about what we're making our materials out of – what we're doing with them, how we're processing them...the other aspect is that our primary energy sources are changing."
ICEP is a collaborative research effort in the Center for Catalysis and Surface Science (CCSS) within the Institute for Sustainability and Energy at Northwestern (ISEN). In addition to catalysis and sustainable materials, ISEN's centers pursue discovery science and leading-edge energy and sustainability research in complimentary areas including solar energy and fuels.
As a basic science research center, ICEP, at its core, aims to learn how to select, take apart, and reassemble molecules with an efficient use of energy. The scientific questions addressed by the thrusts – and the new technologies that may result – are directly relevant to the efficient use of the nation's resources to produce fuels and commodity chemicals, reduce emissions and waste, and minimize the impact of plastics use. ICEP science can also engage industrial sponsors who are interested in future opportunities for innovation generated by the basic scientific discoveries made at ICEP today. "For this renewal cycle, almost all of it is about how we can generate the same things we would like to make, but with less energy and without excess carbon dioxide," said Notestein.
ICEP's DOE-funded research will use state-of-the-art techniques to focus on longstanding challenges in selective oxidation catalysis and related chemical reactions. "We're looking at selective oxidation as a whole within the center. The research thrusts are asking questions related to particular steps in the reaction mechanism that we needed to learn about selective oxidation," explained Notestein. In addition to the three scientific thrusts, crosscutting activities will develop and apply advanced tools in synthesis, characterization and theory, and data science.
Notestein will serve as a thrust PI in addition to Harold Kung, Walter P. Murphy Professor of Chemical and Biological Engineering; and Tobin Marks, Vladimir N. Ipatieff Professor of Catalytic Chemistry and Chemical and Biological Engineering. Marks also serves as a professor of materials science and engineering. The team will oversee some 15 graduate students who cycle through ICEP as a part of their education and research goals. ICEP's founding PI is Professor Peter Stair in the Department of Chemistry.
Notestein is confident research will progress without significant interruption in coming months. "We have a unique resource that puts us at less of a disadvantage and that is REACT," he said. The Reactor Engineering and Catalyst Testing (REACT) core facility was founded in 2012 at CCSS, and aids students and investigators in the advancement of understanding the chemical properties of solid interfaces used for environmental and energy processes. "Within REACT, we have the ability to continue some of our research with a relatively limited staff because it's not quite as physically hands-on, with prior investments in automating critical pieces of equipment," he explained.  He also notes that ICEP's history of success in collaboration, that was built over its previous two-decades, will be important to its ongoing success. In addition, the high-quality team science approach, which was strengthened during the prior renewal period of two-years, sets a strong foundation for ICEP's future as a leader in the field.