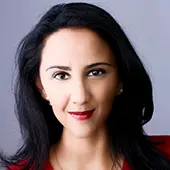 Nesha Abiraj
Diplomatic and Advocacy Liaison, Ocean States; Advocacy & Partnerships US and Caribbean, Stop Ecocide International

Hot Potato - Who Holds the Climate Liability Bag? (Friday, 11:00am)

Nesha Abiraj is an International Human Rights Lawyer. She has worked as a Senior Specialist in Advocacy and Policy in the International Humanitarian Response Division of Save the Children, USA. She also served as an Advocacy Lead for UNICEF USA. In 2018, Nesha became the first person from Trinidad & Tobago to be awarded the Schuette fellowship in Global Health and Human Rights. She pursued and completed her fellowship with the Women's Rights Division at Human Rights Watch in New York. In 2019, she became the first person from Trinidad &Tobago to be awarded the Citation of the Commonwealth of Massachusetts for her tireless work to protect the children of the Commonwealth from early, forced and child marriages. Nesha has worked on global human rights policies related to the rights of women and children and global health and human rights. Notably she worked on infectious diseases law and policy in India, China and the United States. She has also done over a decade of humanitarian service in the aftermath of natural disasters and recently in the wake of the Covid-19 pandemic in the Caribbean and the United States.