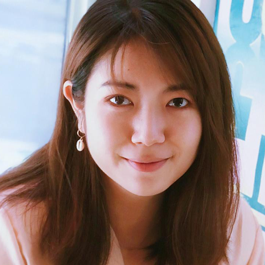 Vice President
BlackRock Global Sustainable Investing
Investing in a Sustainable Future 
Yuxi Suo can find opportunity at the intersection of seemingly disparate worlds. As a graduate student in Earth and planetary sciences at Northwestern University, she dove deep to understand her motivations and her skills before graduating with a Master of Science degree in 2018. Suo's preparation led her to accept a researcher role with the sustainable investing team at BlackRock. According to Suo, her current position allows her to leverage her research skills with her knowledge of sustainability. 
She credits her former adviser, Daniel Horton, assistant professor of Earth and planetary sciences, as well as Northwestern's career advisor Elysse Longiotti for guiding her into a profession that she finds engaging and fulfilling. "What I am proud of is that my research and my beliefs really impact people and they really change people's opinions," says Suo, who combines the traditional investing approaches with insights about environment, society and governance, traditionally non-financial insights, to support sustainable investment solutions across the firm. "What we've been working on is trying to demonstrate, and convince investors, that climate change is an investment risk," she says. It's a conviction that is natural for her to support.
When Suo thinks about a transition to a clean energy economy, she says, "Companies that have better positioned themselves for the global transition to a low carbon economy will perform better in the future." When it comes to climate change, she says, "Our firm has taken a lead in the financial industry in sustainable investing, and I'm super proud that I'm part of this team." BlackRock announced a commitment to sustainable investing in a letter to clients issued in January 2020.
"It is important for people to understand that, like the COVID-19 pandemic, climate risk is an investment risk that can't be ignored."  — Yuxi Suo (WCAS '18), Researcher, BlackRock Global Sustainable Investing 
These lessons, says Suo, have been underscored by recent world events. "It is important for people to understand that, like the COVID-19 pandemic, climate risk is an investment risk that can't be ignored," she says. "I think people right now are more aware of sustainability risk than before. Given this pandemic, people are now recognizing that this kind of event is highly relevant to financial assets, and we would expect sustainable companies to be more resilient during downturns. The market downturn in the first quarter was a key test of this conviction. Indeed, what we found is that sustainable stock indices performed better than their non-sustainable counterparts, not just in this downturn but in prior ones as well."
As Suo rides the changing tide and looks for answers in the data to help BlackRock clients build a stronger economic future, she offers advice for current students who may be considering their career options. Experience taught her that there are benefits to being open minded, and to reaching out to professionals who work in an area that interests you that may see growth in the future. Suo suggests that students think about how to combine their skills and interests. Most important she adds, in the end, it's best to follow your heart.
* Editor's Note, July 2023: Yuxi Suo is now Vice President at BlackRock Sustainable Investing.