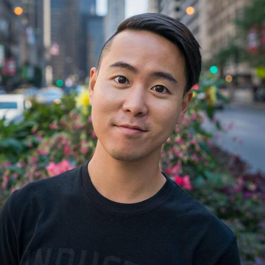 Sustainability Analyst
Meta
Working with a Responsible Supply Chain
As a sustainability analyst at Meta (formerly Facebook), Byron Cheng (McC '10) focuses on the company's responsible supply chain, which spans all the hardware that is used in its data centers and Meta's consumer products as well. Specifically, Cheng works with data tools to drive forward sustainable action in manufacturing hardware, labor; and hardware end of life, or hardware circularity. He works closely with people from a broad range of sectors at the company as well as with suppliers and vendors to support Meta's sustainability goal of achieving net zero GHG emission across its value chain in 2030. "As Meta continues to grow with the expansion of things like the metaverse... we are expecting big growth, and so we are pulling all the levers we can to make sure we can hit that target of net zero," says Cheng.
Long before taking on the role of sustainability analyst, Cheng graduated from the McCormick School of Engineering with a degree in biomedical engineering in 2010.
As a McCormick alum, Cheng credits his successful transition into sustainability to his engineering background, where he learned about problem solving with a process-focused mindset. When approaching a new problem, Cheng focuses on the main obstacles that the company, clients, or vendors are trying to resolve to work to provide tools and improvements to enhance efficiency. He often works with environmental data from vendors to introduce them to different methods of committing to energy efficiency, such as integrating renewable energy and solar power.
"Sustainability at this point needs to be ingrained in every single role. Everybody has to think about it. Everybody has to consider it." - Byron Cheng, Sustainability Analyst, Meta
After graduating, Cheng kickstarted his career in the information technology department at PepsiCo. As part of the PepsiCo sustainability team, Cheng worked on data analysis and reporting, focusing on sourcing and agriculture to improve efficiency with collaborating with PepsiCo's farmers.
This set up a foundational understanding of working in the sustainability sector for Cheng, whose current work at Meta has a similar emphasis on sourcing as he works with manufacturers to expand their hardware circularity practices. As the company's data centers grow, so will the amount of hardware that is being used. When new technology comes in, he explains, the company tries to look for ways to reuse or redeploy the old rather than discarding it as waste. Even as technology continues to improve and newer products come into the market, Cheng believes that there is still a place for current and older technology. 
"We want to continue to do everything we can to make sure that our products have a life as long as possible," says Cheng, who notes that a prime example of hardware circularity is evident in the Oculus Go, a VR headset and product of Meta that was discontinued in 2020. Meta now has plans to add an unlocked bootloader to this discontinued product, meaning that soon, users and developers will have the opportunity to continue to interact with the product software and work on it for years to come.
For those eager to pursue positions in sustainability, Cheng advises that people can have a sustainable impact from any job, not only jobs in the sustainability sector. "Sustainability at this point needs to be ingrained in every single role. Everybody has to think about it. Everybody has to consider it." Cheng suggests that future professionals develop an understanding of sustainability and the ability to converse about it to work more efficiently with sustainability issues.
As a sustainability analyst, Cheng has gained a sense of optimism for sustainable progress in companies as large as Meta. He is pleased to see that peer companies are also continuing to recognize the need to reduce carbon footprints and increase efforts to take control of emissions. Especially since peer companies share the same vendors as Meta, Cheng believes that every action that the companies take has the potential to greatly improve sustainable efforts towards a greener future on a large scale. "Anything that we do here will impact millions and millions of people because that's how many users the company [Meta] has," says Cheng. "For me that's something that's been really exciting to think about."