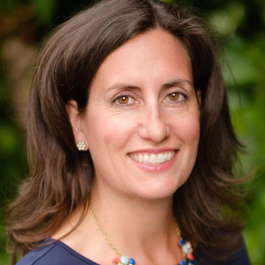 Championing Sustainable Tourism
"How do you balance your natural resources and protect what makes your destination unique, ensure that you have the ability to continue to share it, and that it serves its residents first?" That is the question Linsey Gallagher addresses every day in Napa Valley, California, where sustainability is key to the ongoing success of the wine and tourism industries.
Gallagher is a 2002 graduate of Northwestern's Kellogg School of Management. Fast forward twenty years, and she now serves as President and CEO of Visit Napa Valley, the official marketing organization for the Napa Valley. Their mission? To promote, protect, and enhance the Napa Valley destination on the world stage.
Gallagher credits much of her success in the trade association to her time at Kellogg, both in and out of the classroom. Towards the end of her time at Kellogg, Gallagher was planning to take on a consumer packaged goods role in the Midwest, when the opportunity to work at E & J Gallo Winery arose through a Kellogg connection. Her experience at Kellogg prepared her to learn a completely new business model and function—transitioning from finance to marketing and brand management in the wine industry.
Sustainability is integral to the California wine industry, where Gallagher has worked for over fifteen years. In order to keep the wine industry flourishing, the land must be protected, while still producing delicious wines worthy of international export. Fifty years ago, the Agricultural Preserve in Napa Valley was established as the first ordinance to protect open space from future development in the United States. Since then, all infrastructure and development is limited to the inhabited towns of the Valley, which houses the restaurants and resorts, leaving the vast majority of land protected for agricultural use.
After five years at E & J Gallo Winery, Gallagher moved on to the California Wine Institute where she ran their international marketing program called the California Wine Export Program, which operates in 30 countries. Gallagher worked closely with Visit California in her role at the Wine Institute, which is the statewide tourism organization.
While Gallagher was in charge of the international marketing program at the Wine Institute, the organization founded and led the California Sustainable Winegrowing Alliance, which promotes the benefits of sustainable winegrowing practices, enlists industry commitment, and assists in the implementation of the Sustainable Winegrowing Program.
Now, at Visit Napa Valley, Gallagher has a similar commitment to sustainability. "I feel really honored to be a steward of the protection of this land for future generations and for meeting the needs of our community and residents today."
Gallagher joined Visit Napa Valley six months before the COVID-19 pandemic rocked the world. She had been collaborating with Napa Green, a regional sustainability certification program for vineyards and wineries, and developing a hospitality-focused sustainability program before the pandemic changed the tourism industry. Destinations like Napa Valley experienced fluctuations and instability as they navigated the "layers of crisis" of the pandemic coupled with wildfires.  This resulted in  decreased travel and people's increased desire for isolation. Throughout it all, Gallagher tried to be resourceful and transparent with marketing practices—promoting Napa as a weekend away for Bay Area residents until travelers from farther away returned. Nevertheless, while COVID-19 and wild fires  tarnished the region and its brand, Gallagher has remained optimistic and reports that Napa Valley's hospitality industry is well on its way to recovery and resilience. After two years, she is excited to return to more typical travel patterns, where she can once again focus on tourism sustainability initiatives and really show what the Napa Valley has to offer to its guests and residents. "Our goal is to keep our unique vineyard land protected, vital, and vibrant for many generations to come, while continuing to welcome visitors from around the world."
When asked what advice she would give to her younger self or to others looking to pursue a career like hers, Gallagher says, "Have the courage to walk through doors that open to you. Focus on relationships and connections, do a lot of hard work in between, and in my experience, some really amazing things will present themselves to you."