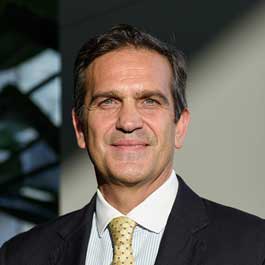 Deputy Executive Director
Green Climate Fund
Financing a Sustainable World
Saving the environment often comes with a hefty price tag, an expense Javier Manzanares knows well. As the Deputy Executive Director of the Green Climate Fund (GCF), Manzanares is in charge of project cycle and various front office divisions—namely, the Private Sector Facility, public-sector engagement, and a division that manages relationships with nearly 146 countries.
"We facilitate climate action and the transformation of economies from brown to green," says Manzanares. "In the area of mitigation, much of the energy generation we work with is through renewables. We also branch into other areas that combine elements of both resilient economies and mitigation of emissions."
The GCF is a global fund, created by 194 countries which participated in the 2010 United Nations Framework Convention on Climate Change. The organization promotes a change to low-emission and climate-resilient development, with specific emphasis on supporting efforts of developing countries to respond to climate change. When the Paris Agreement was reached in 2015, GCF was given an important role in serving the agreement and supporting the goal of keeping climate change well below 2 degrees Celsius. "The fund operates and allocates funding based on an investment framework that contains several areas that have been mandated for investment," explains Manzanares. "One of which is for renewable energy and energy efficiency. So really, sustainability and energy are precisely one of our main pillars."
Following the establishment of its operational principles and guidelines, GCF commenced its initial resource mobilization in 2014, raising over $10 billion (USD) by the end of the year. Currently, Manzanares and his team are nearing the end of allocating this initial $10 billion that will soon start the recapitalization process. "This replenishment process is a very exciting period of time for the countries involved. Hopefully, after this we will be able to invite other sources like philanthropists, NGOs, and private sector partners," says Manzanares.
Manzanares holds a dual MBA from Northwestern University's Kellogg School of Management along with an EMBA from Hong Kong University of Sciences & Technology and is currently a PhD candidate at INHA University in South Korea.
"We facilitate climate action and the transformation of economies from brown to green... Sustainability and energy are precisely one of our main pillars." — Javier Manzanares (KSM '01/ KH-02), Deputy Executive Director of the Green Climate Fund (GCF)
He feels that his time at Northwestern dramatically affected his career path, particularly the process of professional enrichment. "Sharing experiences and networking with colleagues who are in high senior positions at reputable organizations and institutions—along with the faculty and the technical training of the program—I think prepares you well," says Manzanares. "We learned a good combination of academic analysis and skill building."
Manzanares joined the professional arena in the finance banking sector, specifically private investment commercial banking. After a number of years in that role, he moved into regional development banking in Central America, adding an element of sustainability and sustainable development into his finance career. He then switched careers again to work for the United Nations Office for Project Services (UNOPS). "At that point, my experiences had been great, but UNOPS is not exactly a financial institution, so when I had a chance I applied to something going back to my background of finance," says Manzanares. "That's why I joined GCF back in 2014. I first started as its Chief Financial Officer and Director of Support Services, which was a combination of finance, operations, and involved sustainable development."
For Manzanares, the Green Climate Fund combines his passions for finance and sustainability in a unique combination that benefits the world of renewable energy and countries susceptible to the impacts of climate change.
* Editor's Note, November 2022: Javier Manzanares is now Co-Chief Executive Officer at Green Climate DAO.