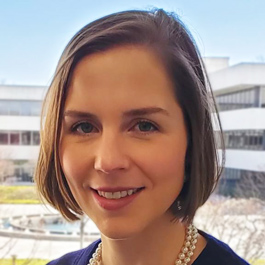 Vice President of Global Sustainable Plastics
PepsiCo
Reinventing Plastic for the Future
There's no time to waste, for Burgess Davis, who is turning the wheel of one the world's largest food and beverage companies toward a future of sustainable plastics. As the Vice President of Global Sustainable Plastics at PepsiCo, the strategist works with a team of experts across all product categories and geographies.
The initiative is just getting started, and Davis is both realistic about the challenge and encouraged by recent progress. "We've done a great job of getting the entire organization focused on sustainable plastics and emphasizing it as a strategic priority," she says. However, in terms of the big picture, "I think we have years ahead of us, especially in the US, on how to handle the issue with plastic," she adds.
The complex role has tapped into Davis' innate intellectual curiosity, which she credits Northwestern for fostering during her years as a student double-major in Economics and Mathematical Methods in the Social Sciences. "With so many choices at Northwestern and the ability to pursue a variety of interests in a given year…you continue to develop that intellectual curiosity. I feel like this is something that I am able to apply to this role — the desire to go deep into the different components of our packaging, their chemistry, and truly understand every element that it takes to get one of our packages to shelf and how it impacts our environment."
"With so many choices at Northwestern and the ability to pursue a variety of interests in a given year…you continue to develop that intellectual curiosity." — Burgess S. Davis (WCAS '03), Vice President of Global Sustainable Plastics at PepsiCo
Since she accepted the charge, after nearly 5 years as a strategist at PepsiCo, Davis has become more aware of her own use of plastics—an awakening she hopes to inspire in others through increased brand outreach on the issue. "I feel like, as a US consumer, we are somewhat isolated from what is happening around the globe [with plastics]. You might see it in headlines but it's not necessarily something that you may personally see or experience on a day-to-day basis," she says. "Just the exploration and realization of how we consume resources is fascinating."
The one-time finance executive, and graduate of the University of Chicago Booth Graduate School of Business, never imagined she would be in this role one day. At the same time, she is not completely surprised by her personal and professional evolution. "When I went to business school, I didn't know where my career might take me, but I knew coming out of it that I would need to focus on something with which I could intuitively connect, so I pursued consulting. The areas of consulting that I tended to lean toward were the consumer and retail space," she reflects. Her strategy for professional success? "I've always pursued areas I've thought were interesting, dynamic, and provided me with the opportunity to work with good people."
Davis is enthusiastic about her venture and excited by the potential for plastic innovation within PepsiCo, which allows her to connect with consumers and other partners. "At PepsiCo, we have a vision to build a world where plastics need never become waste. For us, we are really focused on the circular economy, which means doing everything we can to make sure that the packaging we put out is sustainably disposed of and reused. For plastics, we have emphasized three major pillars: reduction, recycling, and reinvention," she says. "My responsibility is to shape that overall agenda, and then work with the organization and our partners to ensure that we are actioning toward it."
Davis' "to do" list of developing next-generation packaging, inspiring expanded recycling efforts, and reinventing business models for sustainability is ambitious. But her time is now and, although she says it's too soon to see the results of her work, it surely won't be long.
* Editor's Note, November 2022: Burgess S. Davis is now Vice President, Chief of Staff, Office of CEO at PepsiCo.