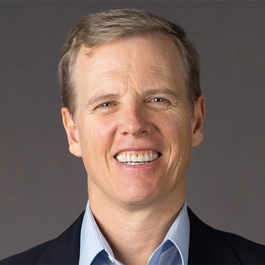 Co-founder and Chief Executive Officer
3Degrees
Helping Companies Take Urgent Action on Climate Change
Not many business owners can say that their alma mater is a customer like Steve McDougal. A 1995 graduate of Northwestern University's Kellogg School of Management, McDougal founded 3Degrees in 2007. 3Degrees is a B Corporation that provides renewable energy and carbon offset solutions to other companies. Northwestern has been a customer for 10 years.
"Our mission is to enable companies and their customers to take urgent action on climate change. We are renewable energy specialists," says McDougal. "We help a number of corporate customers—both Fortune 500 companies and smaller entities—identify opportunities to reduce greenhouse gas emissions by implementing renewable energy strategy."
3Degrees works with customers to help them find the best avenues for purchasing renewable energy. These include setting up special contracts known as green tariffs, buying renewable energy certificates, or long-term contracting directly with offsite wind or solar facilities. They also help about a dozen utilities by managing the supply and marketing of voluntary renewable energy programs where customers pay a small premium every month to use renewable energy. With this strategy, the utility then has to source more renewable energy to match the demands of its customers.
As a company awarded B Corporation (or "Benefits Corporation") status, 3Degrees meets the highest standards of verified social and environmental performance, public transparency, and legal accountability.
"3Degrees has always had a strong environmental ethic and thought of itself as sharing many of the values inherent in a typical B Corp, but actually becoming one helped bring the discipline and ideas to improve in other areas such as employee engagement and community involvement," McDougal says. As one example, he points to the fact that after 3Degrees scored low in the "community" category, it launched 3DGives, a program that regularly facilitates employee volunteer experiences at events such beach clean-ups and tree planting.
"3DGives is consistent with our environmental mission. It also gives dozens of grants to environmentally oriented organizations of employees' choosing," says McDougal.
Since McDougal started working in the energy industry in 2003, he has seen an exponential growth in companies that are buying renewable energy. Hundreds of companies have even pledged to be 100 percent renewable—including the likes of Google, Apple, and Facebook. McDougal attributes this not only to companies wanting to address their own impact on climate change, but also they see more concrete financial reasons to do so. New long-term purchasing options for renewables enable customers to protect themselves against long-term price fluctuations that can be found in non-renewable energy sources. For example, while natural gas prices are likely going to fluctuate, the price of renewables is going one direction—down, and fast, which can be a sound investment for many companies, says McDougal.
With federal action on climate change currently lacking, it is particularly encouraging to see the private sector stepping up, says McDougal. "No matter how discouraging the lack of support may be from the Federal Government and today's administration, the private sector, even states and cities, are forging ahead. This gives us hope."
Although McDougal did not focus on renewable energy or sustainability while at Kellogg, his degree did impress his eventual business partner and now 3Degrees Board Chairman during his job interview. "He needed someone who not only could help us sell renewable energy to businesses, but someone that could help him manage the many complexities of a growing business."
As for his advice to current students or graduates wishing to pursue a similar career path, McDougal says not to wait.
"My business allows me to make a difference on what I believe is the world's biggest problem. There are so many opportunities in renewable energy and environmental work, so pursue that passion early on and just do what it takes to get your foot in the door," says McDougal. "If people see that you are motivated and hard-working and interested in the industry, you will move up fast."