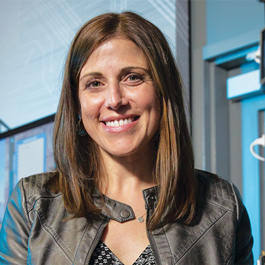 Vice President for Global Research and CTO for Renewable Energy
General Electric
Leading Technology Development With a Customer-focused Approach
Danielle Merfeld leads technology development with a customer-focused approach Danielle Merfeld's job requires her to stay ahead of the curve. As vice president for global research at General Electric, Merfeld directs technology development impacting all of GE's businesses. Although every day is different, she acknowledges that her job mostly involves talking to customers about what technologies—existing or future—may benefit them. "We're always working to make sure that the projects we embark on and the technologies we develop align with clear needs," says Merfeld.
Her first exposure to this type of customer-aligned work came as a PhD student at Northwestern studying electrical and electronics engineering. Before LED lights became commonplace and cost competitive, her engineering team worked on technology that enabled a variety of colors, with the goal of getting to the white LEDs available today. She notes, "At that time, lighting accounted for 20 percent of the electricity usage in the United States. Any increase in efficiency met a real need."
Prior to moving to GE's global research division, Merfeld ran the company's solar business, working on ways to make solar electricity accessible and affordable for communities. "I've learned over the years that just listening is not enough. You have to connect with people on a personal level and seek to understand their needs," she says.
When asked about areas of opportunity in her field, Merfeld described three:
Improvements on the Edge
Think of the edge as the physical manifestation of the cloud. Assets such as buildings, trains, and aircraft are on the edge, and they're getting smarter. For example, GE developed an industrial operating system called Predix for building applications that connect industrial equipment, analyze data, and deliver real-time insights. A Predix-based application on an aircraft engine can prevent flight delays and save airlines money by conducting diagnostic tests during takeoff, cruise, and landing to identify any anomalies before they could be detected manually. Machines equipped with this type of predictive analysis can check their own health, diagnose problems, and even order needed parts without human intervention.
Integrating Science and Design
GE has experts with many diverse skills—engineers, chemists, biologists, computer scientists. We're finding that we need people with backgrounds in both systems thinking and physical science. These are the people who can seamlessly design a motor, build it, and then develop an application to self-diagnose its health. More and more, we're moving toward that integrated approach to create new technical solutions.
Improving Consumer Communication
Customers care when a technology saves them money, saves them time, or cures their ailments. This is where communication is critically important. We need to engage across a broader landscape in a dialogue about what is possible. We get buy-in from engaged consumers when we teach them about our technologies and share stories about what we're doing, how we're doing it, and most importantly, why we're doing it. We want to communicate the passion behind what we do and pass it on to our customers and wider audiences.
Editor's Note: Danielle Merfeld is now Vice President and Chief Technology Officer at General Electric.