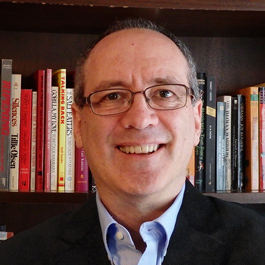 Associate Director of Energy Practice
Navigant Consulting
Creating a More Sustainable Future
Richard Shandross' career has covered a spectrum of areas within the energy space, from fuel cells and alternative energy sources to energy grid management. He credits Northwestern for introducing him to these fields during his time as an undergraduate pursuing a degree in environmental engineering, an interdisciplinary field. It was then that he also encountered chemical engineering, which sparked additional interests.
"I feel that by being in the interdisciplinary program it made a big difference because I was exposed to a lot of things, including chemical engineering," says Shandross. "My career has kind of followed that—I've gone wider than I've gone deep."
After his graduation from Northwestern in 1979, Shandross continued his education receiving a PhD in chemical engineering from the Massachusetts Institute of Technology (MIT). Since then, he has worked for the United States Environmental Protection Agency along with multiple consulting firms.
Now, as an associate director in the Energy Practice at Navigant Consulting, Shandross and his colleagues in the Technology Innovation and Management group work to assess emerging energy-related technologies and help develop policies that will create a more sustainable future.
"We support the Department of Energy in developing the minimal efficiency standards required by law," explains Shandross. "We do much of the background work, in terms of coming up with test procedures for appliances, along with the efficiency standards themselves."
Additionally, Shandross decided to begin working on power grids and their emerging technologies including renewable energy, distributed generation, and microgrids. His particular focus is transactive energy—a set of techniques used in managing the generation, consumption, and flow of energy on the power grid through the use of economic or market-based techniques. "One aspect of this is that suppliers are allowed to buy energy at wholesale prices and from cleaner or more preferred sources, and give prosumers—the people who have extra energy to spare from solar panels and such—a better rate for their excess power than what they would get from the utility," says Shandross.
Seeing the work progress and the idea of "being part of what feels like the cutting edge" are some of the most motivating factors for Shandross. Working on these emerging ideas, watching them come to life, and being able to put his own creative spin on projects are some of the elements that make his work so exciting. "It's rewarding to create something based on my experience, apply it to a new area, and then to go out and sell that idea to others. You find other people start using your words and concepts. I admit that my motivation is not purely altruistic, simply doing it for the good of humanity, but it feels great," says Shandross.
"It's rewarding to create something based on my experience, apply it to a new area, and then to go out and sell that idea to others." — Richard Shandross (McC '79), Associate Director of Energy Practice at Navigant Consulting
The future of energy transformation is a bright one, according to Shandross. He notes that the United States is at a tipping point where new sources of power and energy are predominantly renewable. "Distributed generation and renewable energy are gaining more public acceptance, there are more installations, and the price for renewable energy is lower. It's catching on, and it's really transforming parts of the country," says Shandross.
While Shandross chose a career path that involves exploring a wide variety of interests rather than diving deeply into one specific topic, he knows that's not the path for everyone. But, for those interested in following in his footsteps, he has one major piece of advice: "The people who are successful in the world I live in are the ones who have a wide network. Stay connected. Surround yourself with people who are passionate and interested in similar things as you are."
* Editor's Note, November 2022: Richard Shandross is now Associate Director at Guidehouse, Inc.