November 2023 Executive Note
Sustainability on the World Stage
This month, Northwestern University is sending its third delegation to the United Nations Climate Change Conference, COP28, in Dubai, United Arab Emirates. The Paula M. Trienens Institute for Sustainability and Energy collaborates with the Buffett Institute for Global Affairs in a joint commitment to advance global climate change solutions. One important outcome of our joint efforts includes the foundational establishment of Northwestern's observer status with the UN Framework Convention on Climate Change.
Contributions by Northwestern's world renowned, multidisciplinary faculty and researchers to translational research are amplified through collaboration with both global private and public sector organizations. COP28 convenes leaders and stakeholders from around the world as the ultimate decision-making body related to global climate mitigation commitments. It is also a critical learning opportunity for our students and scholars.
In addition to sending delegates to COP28, several Northwestern faculty will lead two side events on site. Sera Young, associate professor of anthropology, will bring her expertise in water insecurity to a special event hosted by the International Union for the Conservation of Nature (IUCN) at the 'Unite for Nature' pavilion in the COP28 blue zone. Northwestern has been an organizational member of IUCN via the Trienens Institute since 2021, and this event will represent our second international event with the organization (the first having occurred at the IUCN World Conservation Congress in France in 2021). We will share coverage of Professor Young's COP28 event as it becomes available. In addition, Associate Professor Kimberly Marion Suiseeya will participate in an official side event co-sponsored by the U7+ Alliance of World Universities, for which Northwestern serves as Secretariat. The event, "Decarbonization Ecosystems: The Impact of University Partnerships," will take place on December 9 at 6:30 p.m. GMT+4 (8:30 a.m. CST) and will be live streamed on the UNFCCC YouTube Channel.
In September, I was honored to attend the inaugural Africa Climate Summit (ACS) by invitation from a partner organization to engage with prominent regional and global leaders who developed the historic Nairobi Declaration on Climate Change. The Declaration calls for new approaches to multilateral climate financing based in part on equitable monetization of the sustainable use of Africa's natural assets as a part of the continent's contribution to global decarbonization.
Northwestern's ongoing faculty research and educational engagement in Africa, includes transformational initiatives such as the Joint Undertaking for an African Materials Institute (JUAMI), led by Trienens Faculty Affiliate Sossina Haile, Walter P. Murphy Professor of Materials Science and Engineering.
We celebrate every member of Northwestern's community whose scholarship and discoveries are advancing a more globally sustainable future. This year, as a further commitment to the spirit and substance of these talks, the Trienens Institute is offsetting the environmental footprint of Northwestern's delegation through the purchase of carbon offsets via Sustainable Travel International.
As we look toward the coming Thanksgiving holiday, we send our deepest gratitude to those of you who are dedicating your time and talents to these global challenges.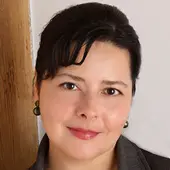 Demetria Giannisis
Senior Managing Director
Paula M. Trienens Institute for Sustainability and Energy