Fall Welcome from Co-Executive Director Michael R. Wasielewski
Fall Welcome from Co-Executive Director Michael R. Wasielewski
Colleagues and friends,
Welcome back to the 2023-2024 academic year at Northwestern!
Fall is one of my favorite seasons, as we welcome both new and old colleagues and students back to campus for another year of innovation and impact. There is a familiarity to the changing of the leaves, to Welcome Week, the classroom, and the lab. It feels like home.
Alas, "normal" doesn't always deliver comfort, especially as we consider what our "new normal" means in the context of climate change. The hottest month and summer ever on record. Record low sea ice extents. Wildfires in Canada and Hawaii. Record storm surges and flooding in California and Vermont. Relentless heat domes across huge swaths of the US. These are ever-present reminders of the "table stakes" that we're playing for in our global carbon economy.
It's easy to be despondent, which is why we must remind ourselves that there is much about which to be optimistic. One year since a trio of bills – the Bipartisan Infrastructure Law, the IRA, and the CHIPS Act - were signed into law, we have seen historic investment – hundreds of billions of dollars – into the infrastructure, technologies, and communities at the forefront of our climate crisis. The "green premium" is rapidly shrinking, or has already disappeared, for more mature renewable energy technologies like wind and solar, as compared to fossil counterparts. And risk and cost accounting are more widely prevalent in our public policy making and among private business planning, as evidenced by trends in ESG, climate- and nature-related financial disclosures, and even consumer choice.
Here at Northwestern, we're also accelerating our urgent work. In June, President Schill announced decarbonization, renewable energy, and sustainability as one of four areas of priority for the University, areas in which "we can make the most distinctive contributions, both because of our distinctive strengths, and the needs of the world…because little else matters if we cannot ensure a future for our students and for future generations."
This was accompanied by a $25 million grant from the Howard and Paula Trienens Fund to advance global sustainability and energy solutions at Northwestern - a critical investment in research, education and engagement for climate and the energy transition, and resilient communities. In recognition of this extraordinary generosity, the University has renamed ISEN as the Paula M. Trienens Institute for Sustainability and Energy. I am also pleased to welcome Ted Sargent, the Lynn Hopton Davis and Greg Davis Professor of Chemistry and Electrical and Computer Engineering, as a Co-Executive Director at the Trienens Institute.
While the mission of the Trienens Institute remains steadfast, we've reached an inflection point in what we're resourced to accomplish. To that end – expect new announcements, programs, and partnerships in the coming year, starting with a new website at the end of October. We also invite your feedback on how the Institute can support your work, extending the speed, scope, and scale of what we can collectively achieve.
There's much more to be said, and even more to do. Science tells us unequivocally that the actions that we undertake in this decade are a critical down payment on a global net-zero trajectory by 2050; there is literally "no time like the present." The Trienens Institute is building a stronger Northwestern -one that is more agile, systematically collaborative, and globally relevant. We do so with the understanding that aligning discovery, experience, and impact will make Northwestern a recognized 21st-century leader for sustainability and energy, at the time it most matters.
Regards,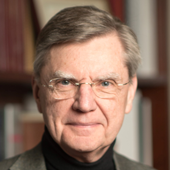 Michael R. Wasielewski
Clare Hamilton Hall Professor of Chemistry
Co-Executive Director, Paula M. Trienens Institute for Sustainability and Energy
Director, Center for Molecular Quantum Transduction
Director, Initiative for Quantum Information Research and Engineering