Why Pursue the ISEN Certificate?
Why Pursue the ISEN Certificate?
Northwestern Senior Discusses the ISEN Certificate Experience
Ginny Lee | September 7, 2022
Northwestern Senior Discusses the ISEN Certificate Experience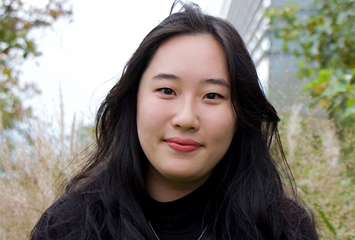 Environmental science has always been an interest for Minjee Jung. "When I was in high school, I was part of an environmental science program so naturally, I wanted to do that in college as well," she says. During her time at college, she realized that she was interested in the corporate side of sustainability and energy as opposed to research-based academia. She began her search for classes to expand on this interest by searching related class listings at Northwestern. "I noticed that there was a pattern in that all of them were under the ISEN certificate," says Jung.
Jung is a class of 2023 student pursuing a double major in environmental sciences and global health with a minor in data science. She began pursuing the Institute for Sustainability and Energy (ISEN) Certificate as a first-year student, which provides an opportunity for undergraduates to receive interdisciplinary instruction in sustainability and energy. It is open for all majors at the university to petition with seven core courses and electives across areas of natural science, engineering, and social sciences.
"I feel like a lot of classes at Northwestern are either discussion-based or lecture-based but the ISEN classes are definitely more practical and hands-on," says Jung. "ISEN really emphasizes how we can work together as a group and do things that are more practical and applicable to real life situations." One of the most valued skills she has developed through the ISEN curriculum has been in the group, project-based work done in ISEN classes, which simulate the setting of corporate positions in the sustainability sector.
Jung recalls a group project in ISEN 210: Introduction to Sustainability- Challenges and Solutions, where students used online tools to calculate and devise net zero plans emulating real-life situations, which aligned with skills listed in sustainability internship positions. For the summer of 2022, she interned for the Environmental Health and Safety Department at Northrop Grumman, an aerospace and defense technology company, and believes that her ISEN Certificate background opens up more options for her to explore the corporate side of the environmental science field rather than solely research-based positions.
As the sustainability sector continues to grow, Jung encourages students to pursue the ISEN Certificate. With the diverse range of classes offered through the certificate, she feels that students get the opportunity to learn about different aspects of sustainability that are guaranteed to be applicable in any corporate setting.
Outside of ISEN, Jung is one of the founders of the Botany and Bees club where students learn about bees and raise funding to donate to different bee conservation and beekeeper programs to help raise awareness about how important bees are to the ecosystem. She is also a research assistant for Dr. Yingying Xie, a former visiting assistant professor in the environmental sciences department at Northwestern University who is currently teaching at Northern Kentucky University. With Dr. Xie, Jung researches how climate change affects leaf senescence, or how leaf color changes in the fall, to help ecotourism industries.
Jung is studying abroad in Denmark this fall to pursue a quarter-long undergraduate program in sustainable development in Europe. She hopes to apply the courses she takes there to her certificate to further supplement her education in sustainability and energy. After graduation, Jung sees herself working in the corporate sustainability world. "I guess for every environmental scientist, the hope is to create a better ecosystem and better environment for us to live in," she says. "I hope to create a world where we can rely on ourselves more and decrease our dependence on non-renewables. Hopefully we can wean off that and create new technologies as we depend on ourselves in a better way."