Building Sustainable Strategies for Food
Yuliya Klochan | May 13, 2022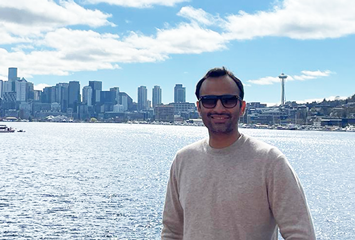 Ankur Seth is among the four Master of Science in Energy and Sustainability (MSES) students who received a Northwestern Sustainability Fellowship for the winter 2022 quarter. The team of six students, which also included two MBA candidates from the Kellogg School of Business, devised a three-pronged strategy for Top Box Foods, a non-profit that delivers healthy and affordable products to food insecure neighborhoods.
"They wanted to come to us and figure out a way where we can devise a strategy for them, where they can keep increasing their local sourcing, while maintaining the nutritious bit of the food and also keeping it affordable," Seth says. By "local," Top Box Foods actually means hyperlocal—within the city limits. The way to achieve this form of sourcing in a place like Chicago is to build new urban farms, many in the form of vertical farms greenhouses due to limited urban space.
Dave Donnan, adjunct professor within the MSES program, advised students throughout the process. "He was there almost every week, just as a sounding board, as a course correction measure, as a reviewer of our deliverables and our presentation," Seth says. Holly Benz, clinical associate professor and director of MSES, guided the group through important milestones and presentations to the client.
The fellowship is a new initiative funded under a recent five-year partnership between Northwestern and Ameresco, a leading clean technology integrator specializing in energy efficiency and renewable energy. Fellows spend approximately 15 hours per week over the span of an academic quarter working on client projects at the leading-edge of the application of energy and sustainability concepts to real world problems. In doing so, the fellowship program creates new opportunities for students to gain real-world experience in energy management and sustainability, furthering the University's mission to support hands-on experiential learning and enabling students to engage with the physical environment and grow as leaders in sustainability.
Seth's Food Fellowship team worked alongside another team that focused on battery recycling. The fellowship greatly complements the MSES degree program, which is meant to prepare students for leadership roles in energy and sustainability, solving problems in the public and private sector, just like the ones presented by Top Box Foods.
Seth was well-prepared for the challenge through his MSES program classes he was enrolled in and prior work experience. He'd worked in the agricultural technology field for about nine years, creating sustainable practices on farms in India, Africa and Southeast Asia. "I was trying to bring everything together in this project. So that was my way to approach it," Seth says. "But obviously, there were five others who had different backgrounds, and they were all bringing all those things to the table: Someone was from sourcing strategy; someone was coming from more policy thinking."
Seth's colleagues included, from the MSES program, Annika Hsu, Asia Lustig and Alison Polite, and, from Kellogg, Kayla Grayson and Amy Wu.
Partnering with vertical farms is just one part of the strategy the MSES and Kellogg team eventually proposed to Top Box Foods. Through comprehensive interviews with stakeholders such as farms, NGOs (including Feeding America), and Chicago Public Schools, the group devised three approaches to the problem of hyperlocal, affordable food sourcing.
The first option: partnering with a local food distributor; second: building partnerships with local vertical farms like MightyVine. "The last option that we suggested to Top Box Foods was that in the future, maybe four or five years down the line, they should aim to build a coalition of farms to have this coalition ready to keep sourcing food," Seth says. "With volumes, they can probably also have better prices. But that effort has to start today."
"The students were smart, forward-thinking and thoughtful in both their approach and creation of a solution," says Tim Kollar, executive director of Top Box Foods, of the winter cohort. "Just as important, they were professional, efficient and fun to work with." The winter fellows' vision will move forward in the summer, when a new group of fellows will rally to help Top Box Foods.
Seth is happy the project will continue and grateful for the opportunity to pursue the fellowship. "This was a completely new way of looking at technology for me," he says. "It's created a more holistic picture for me, as I go forward into sustainable agriculture roles. I think I'll have a lot of advantage and learning from this."
Students interested in future fellowship opportunities are encouraged to contact mses@northwestern.edu.