From Cohort to Career: First Class of MSES Students Graduates
From Cohort to Career: First Class of MSES Students Graduates
Ginny Lee | June 17, 2021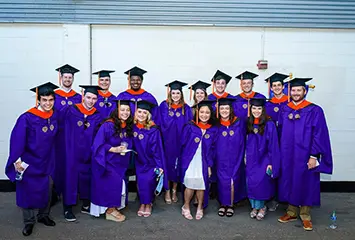 As an undergraduate student, Claire Juracka majored in environmental science and studied coral bleaching. Though she enjoyed her studies, she wished to pursue more education in the technology and energy field, which brought her to the Master of Science in Energy and Sustainability (MSES) program at Northwestern University.
When Katriella Lumbantobing first started her undergraduate education, she knew she wanted to work in energy and sustainability. Yet, when she began her job search after graduating, she could not find the jobs in sustainability that she was looking for. She decided to attend the MSES program, hoping to realign her career goals.
Cyrus Mijares-Shafai came to the MSES program from a background in business development and consulting, realizing that he was more interested in working to put up assets for generating clean and renewable energy.
Juracka, Lumbantobing, and Mijares-Shafai are now looking forward to graduation and newly accepted job offers that fit their interests.
A Career Driven Focus
In the fall of 2020, the MSES program, a professional graduate engineering degree administered by the Institute for Sustainability and Energy at Northwestern (ISEN), welcomed its first cohort of 27 students. With the conclusion of the 2020-21 school year, the first cohort of MSES students graduated this June.
An important priority of the 10-month MSES curriculum is to support professional development and provide fruitful career guidance and opportunities. As a result, graduates go on to pursue leadership positions in the fast-growing field of energy and sustainability.
An asset in the program is the use of both faculty and adjunct professors who are industry professionals, which helps students foster network connections and facilitate the transition into the post graduate workforce. Both Juracka and Lumbantobing were able to gain insight into their current job positions by forming connections with their professors.
Juracka initially received an internship at GreenStruxure, a joint venture of Schneider Electric and Huck Capital, through MSES Director Holly Benz. Juracka became further inspired by the idea of working for Schneider Electric through Mark Feasel, President of Smart Grid North American Operations at Schneider Electric and MSES adjunct associate professor teaching the course, Grid Planning & Operations.
"Having him as a course instructor really opened me up to the world of Schneider Electric. Our director, Holly Benz, has had years at Schneider too. Having those names and hearing about their experiences really made me interested in pursuing that company or one of their spin off companies. That's definitely played a huge role in where I ended up today," says Juracka.
Through her internship experience and the network built through the program, Juracka has accepted a position as an Energy Incentives Analyst at GreenStruxure.
Similarly, Lumbantobing initially learned about Guidehouse, a consultancy that focuses on providing clients with sustainable solutions and outcomes, through MSES adjunct associate professor Dan Hahn, who teaches Fundamentals of Natural Resource Distribution and is a Partner, Global Energy Providers Practice Lead at Guidehouse. Lumbantobing has secured a position as a Senior Consultant at Guidehouse.
With a relatively small cohort, the MSES program provides a personalized approach to students in aiding the job search process. Upon starting the program, students take an in-depth career survey to tailor class selections and guest speaker events to their individual interests and curiosities. Throughout the year, they also participate in frequent one-on-one meetings with Benz and Jeff Henderson; ISEN Associate Director of Marketing, Communications, and Education, to discuss prospective job and internship opportunities based off of students' long-term goals.
"Holly really worked with me to identify what it is that I want out of my career, what functions I would be comfortable doing," says Mijares-Shafai.
The MSES curriculum sets up students with a toolkit of skills to equip them with the necessary knowledge and experience for working in the sustainability and energy sector. Lumbantobing notes that MSES classes allowed her to develop a greater ability to discuss energy-related topics, which greatly affected the success of her job interviews.
"What I was able to bring from the program to my interviews was a fluency in energy," says Lumbantobing. "Before this program I didn't know anything about what the current technologies were or what the markets were looking like. I think I seemed a lot more knowledgeable because I had experience writing and talking about it."
The MSES curriculum also features a capstone practicum project, where students work with professional institutional partners and clients. Prior to officially beginning the MSES program, Juracka worked with the City of Chicago on an EV charging project. During her spring practicum, she worked on an electric bus program for a local school district. Through her involvement in these projects, she was able to make valuable industry connections and learn about the stakeholder engagement process, reaching out to people, and team management.
The workforce experience extends to group projects within the cohort as well. The MSES program accepts students from a range of different backgrounds, with experiences that allows everyone to learn from each other.
"Something that I found really endearing [was] being surrounded by people that really understand energy and have that same kind of passion and vigor for building a career and thinking about solutions to the world's greatest energy and sustainability problems," says Lumbantobing. "They care a lot about this topic and that's definitely been super refreshing for me."
Another important asset of the program are the featured guest speakers who offer insight into the industry and act as sources of inspiration for students. "What I'm going to miss about the program would definitely be the guest speakers," says Mijares-Shafai. "Our professors bring in guest speakers that blow our minds with revolutionary visions for the future and talk about the innovations that they worked on in their own companies and institutions. It really spurs excitement and interest that stirs within you to hear all the great things that are going on."
Featuring guest speakers gives students the opportunity to build professional networks and expand their network of industry experts and innovation leaders from across the energy and sustainability spectrum.
A Close-Knit Cohort
Although some of the instruction was held in a virtual format this year, the cohort of students became closer through events like group project sessions and organizing breakfasts outside of class. "The connections built through this program have happened way quicker than any that I made in undergrad for sure," notes Juracka. "The Northwestern community, even amidst the pandemic, did a great job of welcoming the new grad students on campus."
Despite hailing from an extensive range of backgrounds, a passion for the sustainability and energy sector unified the cohort. "You stick a bunch of people who are sustainability-minded in the same room, and they're going to end up being friends," says Mijares-Shafai.
For the upcoming cohort and future cohorts of the program, the students recommend taking advantage of the connections made both in the classroom with faculty and colleagues as well as through external opportunities such as guest speaker events. They also advise future students to focus on their passions when pursuing strengths and interests to find the most compatible industry and company during the job search process.
The MSES program benefits from the strong foundation of a supportive network of students and faculty as well as unifying experiences. Congratulations to the very first cohort of MSES graduates!