Building Solar Cells In The Classroom
Building Solar Cells In The Classroom
ANSER researchers prepare a new generation for a more sustainable future
Renewable energy saw the highest growth rate of any fuel source in 2017, meeting a quarter of global energy demand growth last year according to the International Energy Agency. With an eye on this rapidly changing global energy landscape, members of the Argonne-Northwestern Solar Energy Research (ANSER) Center have developed an experiential learning program and startup company to teach younger generations about the shift towards a more sustainable future. The researchers have created hands-on educational kits that allow middle school and high school students to build solar cells and batteries using common household items.
"We believe it's important to engage students in the STEM fields [science, technology, engineering, and math] at an early age," says Dick Co, research professor of chemistry at Northwestern and ANSER Center director of operations and outreach. "Who wouldn't enjoy making a solar cell with their own hands and experiencing the magic of turning sunlight into electricity?"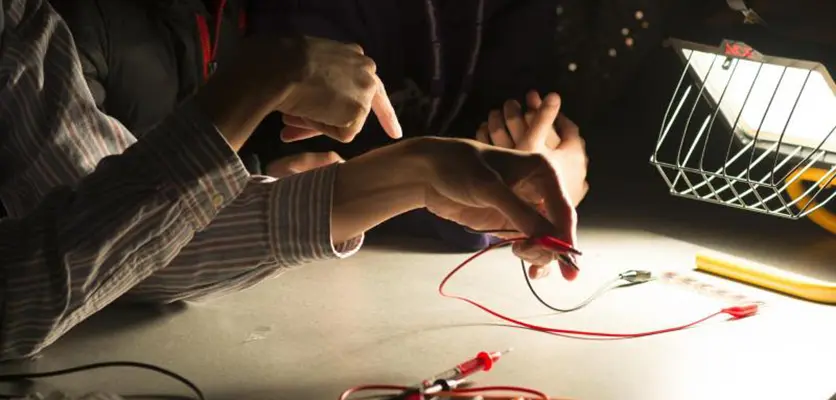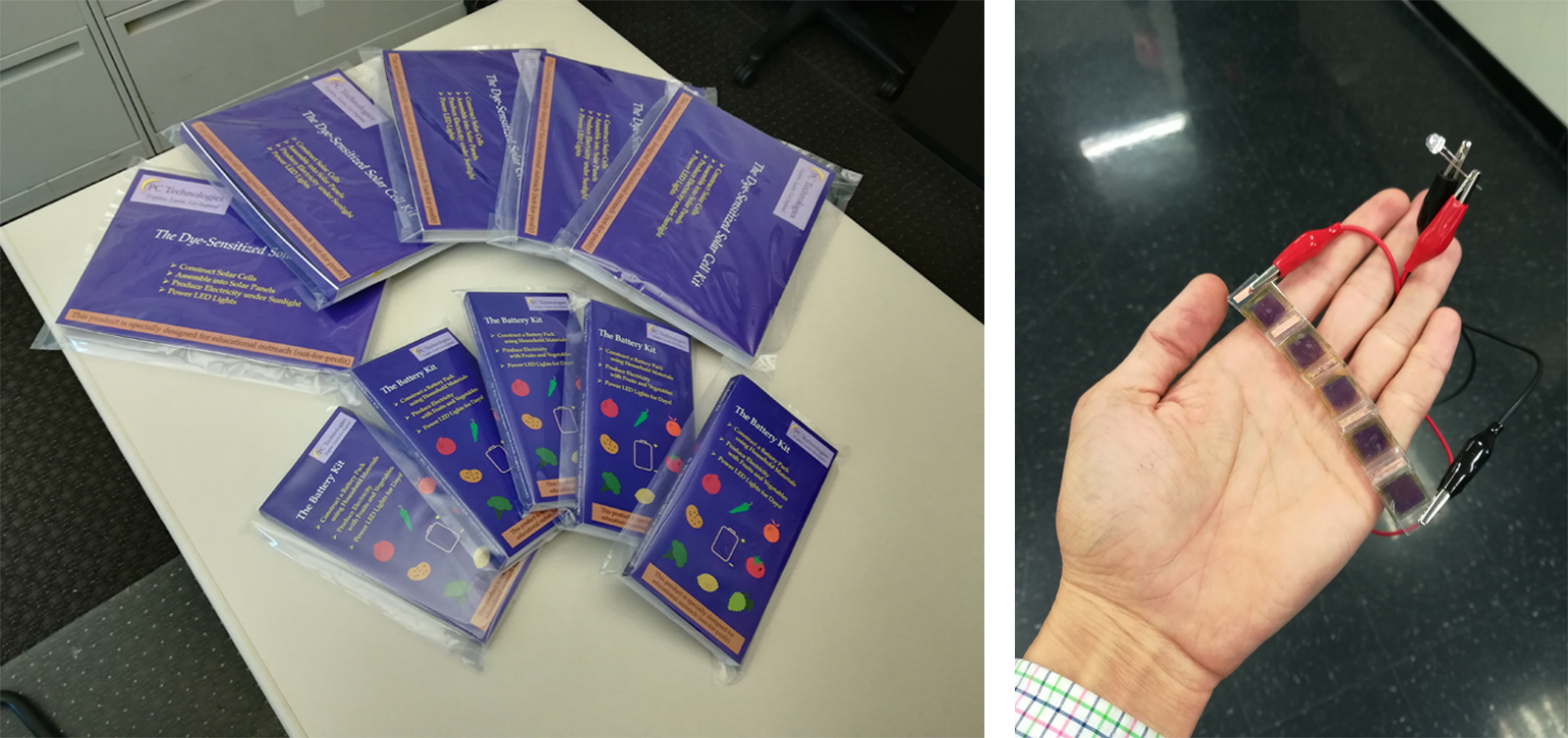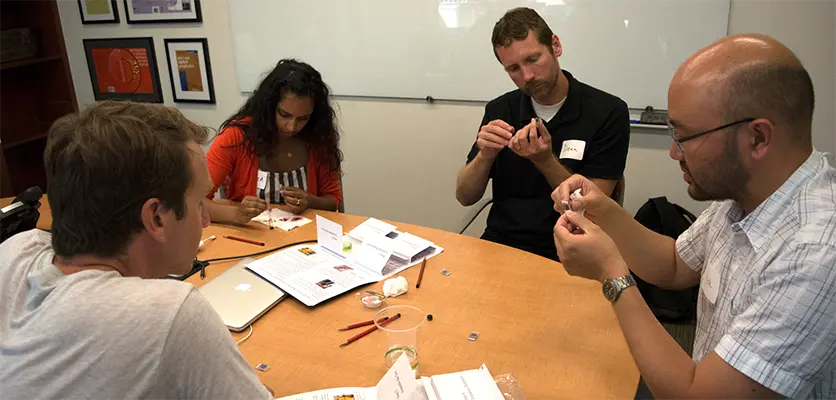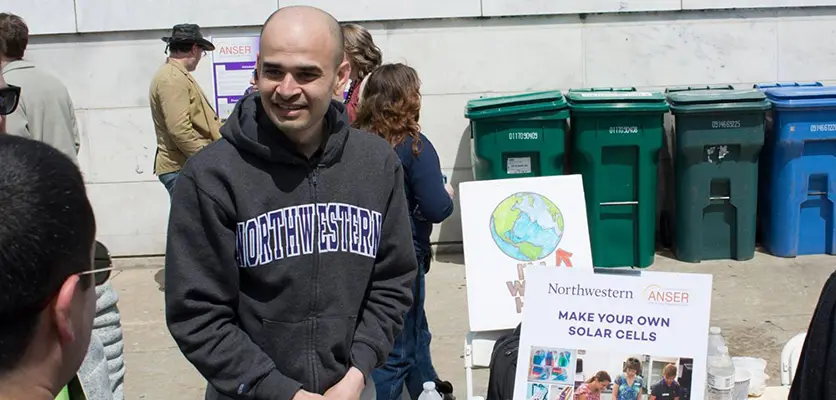 The solar cell kits allow students to use everyday ingredients, such as blackberry juice, to make functional solar panels. Sunlight activates the purple substance inside the blackberry juice to release electrons that flow out of the solar panel to give electric power.

The other kits, which focus on battery technology, allow students to use the chemical energy stored in selected food and other household items to make electricity. Students learn about mechanical assembly, acidity of food, acid batteries, and energy storage.
Sameer Patwardhan, a former postdoctoral fellow at the ANSER Center, and Co decided to develop the kits after years of conducting educational workshops for thousands of students and hundreds teachers. During these engagements, they began to see a gap in the types of programs that were available. They also noticed that even highly motivated teachers faced logistical and budgetary barriers to bringing these types of activities into their middle and high school classrooms.
"We learned that affordable, hands-on activities in solar energy science are almost non-existent in school curricula, and that there is a dire need for inquiry-based learning under the Next Generation Science Standards that are currently being implemented in schools across the US," says Patwardhan. The Next Generation Science Standards (NGSS) are guidelines adopted by 19 states—including Northwestern's home state of Illinois—and the District of Columbia with the goal of creating common standards for teaching and developing greater interest in science among students.
"Our efforts to disseminate the research conducted at the ANSER Center to a broad audience and inspire the next generation naturally led us to the development of these hands-on activities. What followed was the manufacturing of these educational kits under the spin-out company PC Technologies LLC. Our kits and curricula have already reached classrooms in North America, Europe, Asia, the Middle East, and Africa," says Patwardhan.
While do-it-yourself dye-sensitized solar cells are not new, Patwardhan and Co founded PC Technologies to address several obstacles faced by teachers and enthusiasts, including high costs and complexity of ordering and stocking supplies. The educational kits from PC Technologies are all self-contained, making it easier and cheaper for teachers to bring these experiments to their classrooms.
"With the solar kits, students get excited to see sunlight powering an LED light. And with the battery kit, they are amazed to see a lightbulb glow for days by just using pieces of potato, for example. It creates an element of surprise and wonder that generates curiosity in the STEM fields," Patwardhan says.
The mission of the ANSER Center is to revolutionize humans' understanding of molecules, materials, and methods necessary to create dramatically more efficient technologies for solar fuels and electricity production. For Co, the kits are a natural extension of that mission.
"The ANSER Center remains committed to creating and mentoring a technically excellent workforce capable of solving energy-related problems. With the global reach of our science kits, we're inspiring the workforce and consumers of solar energy far into the future," he says.