Caleigh Hernandez, WCAS '15
Caleigh Hernandez, WCAS '15, CEO of Best Foot Forward
Monika Wnuk | June 29, 2016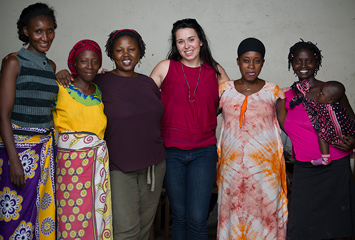 Caleigh Hernandez is a 2014 Clinton Global Initiative University alum and the CEO of Best Foot Forward, a social business dedicated to empowering female African artisans working in the shoe industry. Following publication of this article, Best Foot Forward is now known as RoHo.
When Northwestern University alum Caleigh Hernandez studied abroad in Budondo, Uganda the summer before her junior year, she had no idea that her research would become her business.
While there, Caleigh engaged the artisan community of Uganda's craft markets in conversations about their business needs - everything from skills training to support services for working mothers. Captivated by their stories and the immense opportunity presented by a global marketplace, Caleigh pledged to return to Uganda the following summer to assess the needs of small-scale entrepreneurs and plant the seeds of a social enterprise that addressed them. The result was Best Foot Forward, a socially conscious shoe company that exports beaded leather sandals to the U.S. market.
"BFF shoes is establishing a mainstream market for local products and creating economic opportunities in areas with high unemployment rates," she said.
Upon graduating from Northwestern in 2015, Caleigh returned to the region to develop and implement a business model that supports its artisans through establishing services such as day care and health insurance, and invests in community development and environmental initiatives in Malindi, Kenya. Kenya is the home base and workshop location of many artisans who travel to the craft markets in Uganda.
Fast forward to 2016 and Best Foot Forward supports 36 female and 6 male entrepreneurs, as well as one key supplier. In the last seven months, it has sold 275 pairs of sandals and earned $15,000. With an eye toward the future, the team is spending the summer researching cooperative and fair trade giving models, and raising money to purchase the workshop where the entrepreneurs work. The goal is to transform the workshop into the first fair trade footwear workshop in the region.
The Best Foot Forward team includes three other employees: Lindsay McTravish, director of operations, who has a degree in Small Business Management from Humboldt State University; Allison Fox, creative director, who has a degree in Apparel Manufacturing Management from the Fashion Institute of Design and Merchandising in Los Angeles; and Liam White (WCAS '18), social media director and current Northwestern student.  
For more information on Best Foot Forward, visit www.BFFshoes.com.