Mar Reguant on joining the faculty, COP21, and upcoming courses
Mar Reguant on joining the faculty, COP21, and upcoming courses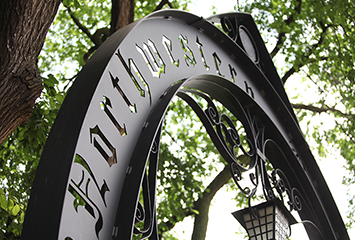 The field of energy economics is becoming increasingly important as our energy landscape changes in response to technological innovation and the drive to lower fossil fuel emissions. Northwestern's economics department is fortunate to have just gained Mar Reguant, an expert in energy economics and electricity markets. You can find her research website here. She comes to Northwestern from Stanford, where she spent four years as an assistant professor in the graduate school of business.
Reguant arrived on campus in early July. Despite a busy schedule this summer of travel and conferences, she took some time to speak with Elizabeth Lukehart at ISEN, so we can get to know her a little better and welcome her to the Northwestern community.
Where are you from, originally?
I grew up in Spain, in the countryside near Barcelona. I was there until I finished undergrad. I really liked growing up there. The people, the community - it's a nice place to grow up. Especially in the countryside, you can just run around outside. It's not as focused as in the U.S., so you have a lot of free time to explore and figure out what you like.
Do you have any hobbies? What do you like to do in your free time?  
I used to like music, playing piano. But I haven't played as much music since becoming an assistant professor. I also really like going to the mountains.
What are you most looking forward to about living in the Chicago area?
Honestly, to be in the [economics] department and getting to know the people. It's very collegial. I feel it's a really good match for me.
Tell me a little bit about your research and how you got started studying the economics of energy. Was there something that spurred your interest in the field?
I started working on energy when I started my PhD at MIT, because I took a class with Paul Joskow. He was working on the initial cap and trade system for sulfur dioxide. He put a lot of emphasis on energy markets. I started working for him and learning more about it. I very quickly found that I really liked it.
But I also had an interest beforehand. Both my brother and sister work in the environment. My brother is an environmental consultant and my sister is an urban planner. So it was part of my background.
In my research, I look at topics around market design. In particular, how can we design cap and trade markets? How do we design incentives to make markets work better?
What research projects are you working on right now?
I'm thinking about renewable integration. Because of certain market incentives, many wind farms don't accurately report wind production. I'm trying to understand why those incentives are distorted and how rules affect their strategic behavior.
What trends in energy & energy markets are you currently seeing, or do you expect to see in the coming years?
There has been a lot of activity on the demand side, which has typically been much more passive. Traditionally, supply follows demand, but now demand is starting to follow supply.
Typically, when it's hot we'd turn on more power plants and at night we'd shut them down. So it's the power plants - the supplier - controlling the supply. But now demand is following supply in the sense that we're providing incentives to consume electricity when it's cheapest to produce. The idea then is that you provide incentives to use electricity at different times of day – like precooling a house before the hottest part of the day. It's important because those peak times are most stressful to the system.
There's a lot of discussion these days about the best economic approaches to properly pricing the negative externalities of fossil fuel extraction and use, and to encouraging the development of clean energy sources. What are your thoughts?
If you survey economists, a very large percent would agree that a carbon tax is the most straightforward. The reason we have cap and trade is because it's the more politically palatable. But the experiences we've had with cap and trade haven't been very successful so far - for example with the EU ETS.
So how do you address the failures of cap and trade?
The California cap and trade system learned a lot from the EU ETS. They created a hybrid system with a floor on the price, so the carbon price doesn't ever go to zero. The price has generally been staying at the floor, so it's almost like a tax in that way. They've also learned to monitor more closely the offsets, and have realistic rules on what can count as offsets.
I feel the EU ETS had a quite a few flaws, but it showed to other countries what to do and what to watch for.
Aside from California, what other countries and/or systems are getting energy policy right?
It's been a very expensive policy, but renewable integration is much higher in Europe. They've been quite successful at putting a lot of renewables on the grid. In Spain, for example, renewable production is over 25%. That's just wind and solar. And it has been without massive disruption to the grid. Some people said it's too much wind; it'll be too volatile. But it has worked. It was also a good time to do it because, with the economic crisis, energy demand went down. I just got an NSF early career grant to study the Spanish experience in more detail and see what we can learn from it.
Do you think these systems and experiences will inform the discussion at the upcoming COP21 meeting?
I'm pessimistic about the discussions. Certainly the fact that India and China are having local air pollution issues helps - they need to reduce emissions, maybe not for climate, but for health issues. Because India and China have local incentives, it opens the door to potentially more serious discussions. But I'm pessimistic in general with these kinds of global efforts.
So that students know what classes to keep an eye out for, can you tell me what you'll be teaching in the upcoming school year?
I'll be teaching two classes in the spring. One is an undergrad energy markets class. We'll be discussing electricity, renewable policy, and other things related to energy markets. I think it'll be an upper-level class. It will be targeted to economics majors, but could be interesting for other students - engineering majors, for example. And at the graduate level, I'll be teaching industrial organization. We'll focus on topics like regulation. Part of it will be about energy, but not all of it. It'll be a more technical class.