Past Projects
The Trienens Institute and sustainNU oversee a project fellowship program, with funding support from Ameresco, a leading cleantech integrator and renewable energy asset developer, owner, and operator. See examples of past projects below.
Summer 2023 Project
Energy Futureproofing Evanston's 5th Ward Campus
Client:
Cara Pratt, City of Evanston
Key Stakeholders:
Raphael Obafemi, Evanston/Skokie School District 65, Alex Lopez, Architect, 5th Ward School
Project Details:
This project will focus on defining a technical plan and funding approach (including grants) for electrical infrastructure to support a campus wide solution for the new D65 school and the Fleetwood Jourdain community center in Evanston's 5th ward. The recommendations should provide a "no regrets" plan to support future electrification, EV charging and microgrid plans. This fellowship project is a continuation of work undertaken in Winter 2023 by a previous fellowship team (see below under "Past Fellowship Projects").
Summer 2023 Fellowship Cycle Timeline
Friday, May 19: Summer 2023 Fellowship Application opens
Thursday, June 1: Applications due by midnight
Tuesday, June 13: Fellowship selection notification deadline
Monday, June 26: Fellowship kickoff
Monday, July 24: Midpoint presentations
Week of Monday, August 28 or September 4: Final presentations
Winter 2023 Projects
5th Ward Community Microgrid
Client Advisor: 
Cara Pratt, Sustainability & Resilience Coordinator, City of Evanston
Faculty Sponsor: 
Brian Tolliver, Adjunct Professor, MSES
Description: 
With the goal of accessing part of the $25M set aside by the state of Illinois for energy and sustainability initiatives, this fellowship team developed a proposal in partnership with the City of Evanston to deploy a community microgrid in its 5th ward.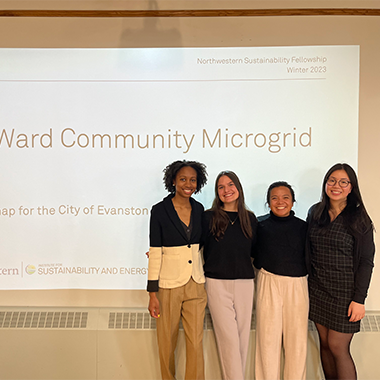 To understand the existing sustainability and energy needs for the 5th ward, the team engaged 20+ stakeholders including city staff, 5th ward City Councilmember Burns, an environmental non-profit, equipment distributors, and battery manufacturers. Since the 5th ward is a Low-and-Moderate-Income and historically marginalized environmental justice community, the installation of a microgrid could promote resilience in an area more prone to energy scarcity and climate vulnerability. Moreover, the 5th ward microgrid supports the City of Evanston in meeting its Climate Action and Resilience Plan goals.
The proposed microgrid would generate and store energy using solar panels atop Fleetwood Jourdain Community Center (FJCC), an integral community gathering space, with batteries and controls on facility grounds. The solar PV system can generate approximately 183,986 kWh/year of energy and reduce power purchased from the grid with an expected savings of $8,812 per year for the FJCC. For all energy consumption hours (24/7), the system can cover an average of 23% energy demands year round. 
The fellowship team studied Seattle's Miller Community Center, due to its technical similarities. The Fleetwood Jourdain microgrid could "island" or operate independently of the larger grid in the event of power outages, allowing it to provide refuge during heatwaves or extreme weather. Residents could go to Fleetwood Jourdain for charging their electronics, refrigeration for medications, and more. It can also serve as an educational resource for the community, positioning the 5th ward strategically for future investments and the broader energy transition. This is an opportune moment to build a microgrid given the incentives provided in the Inflation Reduction Act, which can lower overall project costs.
The fellows identified numerous sources of state and federal funding available to support the project including the Federal Energy Investment Tax Credit, the IL Bond Fund, Environmental Climate Justice Block Grant, and more. Each funding source is able to cover different project costs such as equipment (solar panels, battery, microgrid controllers), soft costs (engineering, construction, permitting), and additional infrastructure (metering, energy distribution system). The team provided specific considerations and recommendations to the city for how best to manage microgrid equipment while minimizing costs.
Looking ahead, the fellows recommend several next steps for the City of Evanston: i) collaborate with local partners such as School District 65, ii) initiate community engagement efforts to raise awareness and determine the future of Fleetwood Jourdain, iii) consult with an EPC firm to design the microgrid, iv) apply to the most relevant funding opportunities as soon as possible with partners from Northwestern and the City of Evanston, and v) identify opportunities for microgrid education and training programs with SD65. To be eligible for the identified tax credits, the multi-year project must start construction by January 1, 2025, with more flexibility for securing the other funding sources.
Long Duration Energy Storage at Northwestern (1801 Maple)
Client Advisor: 
Greg Kozak, Director of the Office of Sustainability, Northwestern University
Faculty Sponsor: 
Jeff Lopez, Assistant Professor of Chemical & Biological Engineering
Description: 
This project set out to understand the economic, technical, physical, and policy considerations related to the installation of clean, long duration energy storage (LDES) on Northwestern's Evanston campus.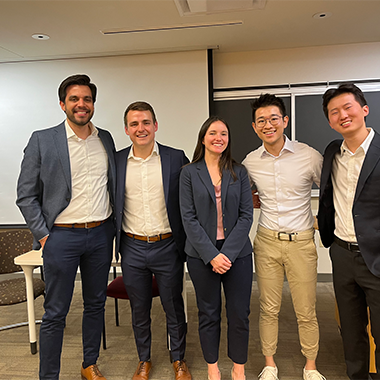 With a $1M budget, the team chose 1801 Maple as a case study to account for the immense financial and spatial requirements associated with the installation of LDES systems across campus. Initial stakeholder consultations shed light on the value of LDES: to promote campus sustainability goals by way of reducing greenhouse gas emissions, to enhance energy resilience by having an emergency backup power source to protect key research infrastructure, and to potentially reduce operation costs using tax credits.
The fellows researched four main categories of LDES systems: electrochemical, mechanical, thermal, and chemical. Their analysis included capital and maintenance costs, system design (size, storage capacity, distribution channels), feasibility of construction time, and the maturity of each technology. From Stanford's thermal system, to Dartmouth's lithium-ion system, to Mitsubishi's proposed Utah hydrogen hub, the students evaluated the existing landscape of storage systems across the United States.
Using campus energy load data, the fellows set the goal of matching summer hour peak load capacity to ensure the LDES storage system would be able to function and shed load from the grid at peak demand. Their evaluation considered both capacity and budget constraints, and honed in on lithium-ion batteries as the most suitable option. SimpliPhi, LG Chem, and Tesla were identified as promising systems with different options for configuration, installation and maintenance costs and plans, and energy curtailment benefits. A lithium-ion LDES system could provide between $42,000 and $176,000 in annual energy savings. When paired with investment tax credits and electricity generated from a University-owned solar PV system, the 15-year internal rate of return ranges from 3.7% (SimpliPhi) to 14.2% (Tesla).
The project may be eligible for tax credits including the Inflation Reduction Act's Clean Electricity Investment Tax Credit and the Solar and Battery Storage Investment Tax Credit. The team ultimately identified that LDES systems, when paired with solar PV generation, offer a greater ROI, annual cost savings, and curtailment benefits. The case study 1801 Maple uses only 3% of total campus energy, which means more expansive and innovative approaches to LDES will further contribute to campus sustainability goals to reduced greenhouse gas emissions and transition to clean power sources, and may open up other funding opportunities. Additional opportunities to collaborate with other local energy initiatives may be a way to access funding from the State and Community Energy Program and to benefit from economies of scale. The fellows recommend presenting this project to state and local representatives, to continue monitoring the state of Illinois' clean energy agenda for future opportunities, and to identify opportunities for collaboration with parallel clean energy projects across the city of Evanston such as the proposed 5th ward community microgrid.